Erdoğan to Support NATO Membership for Finland
Ankara, Turkey (AP) —
Turkish President Recep Tayyip Erdogan said Friday that his government would move forward with ratifying Finland's application for membership of the North Atlantic Treaty Organization (NATO), paving the way for it to join the military bloc, ahead of Sweden. .
The breakthrough for Finland came when President Sauli Niinisto was in Ankara to meet with Erdogan. Both Finland and Sweden signed up to join NATO 10 months ago following Russia's invasion of Ukraine, ignoring the two countries' "neutral" (non-aligned) position for decades.
NATO needs the unanimous approval of its 30 existing members for membership expansion, with Turkey and Hungary the only countries that have yet to ratify the Nordic countries' applications. The Turkish government accuses Sweden and Finland of being too soft on groups it views as terror organizations, but Ankara expresses more reservations about Sweden's membership.
"Regarding the fulfillment of the promises in the trilateral memorandum of understanding, we have seen that Finland has taken authentic and concrete steps," Erdogan told a press conference in Ankara after his meeting with Niinisto.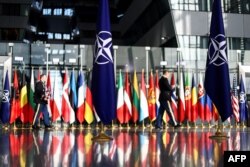 The flags of the 30 member states of the North Atlantic Treaty Organization (NATO) are seen at NATO Headquarters in Brussels, Belgium (photo: doc).
"This sensitivity is for the security of our country and, based on the progress that has been made in the protocol for Finland's acceptance (membership) into NATO, we have decided to start the ratification process in parliament," the president added.
With Erdogan's approval, Finland's application to NATO could be submitted to Turkey's parliament, where the president's party and his coalition hold a majority. Ratification is expected before Turkey holds presidential and parliamentary elections scheduled for May 14.
Commenting on Turkey's willingness to consider ratifying Sweden's accession to NATO, Erdogan said it would "depend on the solid steps that Sweden will take."
Explaining the differences between the Nordic countries from Ankara's point of view, Erdogan claimed that Sweden had "accepted terrorism", and cited demonstrations of supporters of Kurdish militants in the streets of Stockholm. "Such demonstrations did not happen in Finland," he said. "For that reason we have to consider [Finlandia] separately from Sweden."
Niinisto welcomed Turkey's willingness to go ahead with his country's offer but also expressed solidarity with its neighbours. "I feel Finland's membership in NATO is not complete without Sweden," he said.
Referring to the NATO summit scheduled for July in the Lithuanian capital, Niinisto added: "I would like to see in Vilnius that we will meet an alliance of 32 members (including Sweden, ed.)."
Turkey, Finland and Sweden signed a memorandum of understanding in June last year to resolve differences over the membership of the Nordic countries.
The document includes a clause addressing Ankara's claim that Stockholm and Helsinki do not take seriously its concerns with those it deems terrorists, especially supporters of Kurdish militants who have waged a 39-year insurgency in Turkey and people linked to the 2016 coup attempt in Ankara.
A series of separate demonstrations in the Swedish capital Stockholm, including a protest by an anti-Islam activist who burned the holy Koran outside the Turkish Embassy, ​​also angered Turkish officials.
Turkish protesters demonstrate in front of the Consulate General of Sweden in Istanbul, after an anti-Islam activist burned the Koran in Stockholm, January 21, 2023.
Niinisto arrived in Turkey Thursday (16/3) and visited areas affected by the 7.8 magnitude earthquake that killed more than 52,000 people in Turkey and Syria last month.
"I have known Erdogan for a long time. I believe he has an important message," Niinisto said Thursday while visiting Kahramanmaras, one of the worst-hit provinces.
Turkish President Recep Tayyip Erdogan, left, welcomes Finnish President Sauli Niinisto at the Presidential Complex in Ankara, Friday March 17, 2023.
Prior to Friday's announcement, Swedish Prime Minister Ulf Kristersson said Sweden was expecting a "rapid ratification process" after Turkey's elections.
NATO Secretary General Jens Stoltenberg said the decision would strengthen the security of NATO, Finland and Sweden. "The most important thing is that Finland and Sweden become full members of NATO quickly, not whether they join at the same time," he hoped. [pp/ft]