Eko Patrio & Wife's story about their children who went to college at the age of 15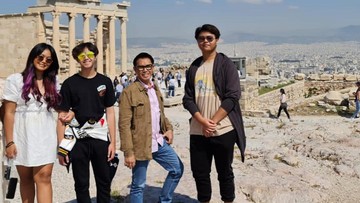 Newsdelivers.com, Insertlive –
Syawal and Nayla, two children of Eko Patrio and Viona Rosalina amazed the public because they succeeded in pursuing higher education in Singapore since they were 15 years old.
According to Viona, her two children were able to study at a young age because of the education system in Singapore.
"His school system has a junior high school system up to grade 4 or at us it's high school grade 1. So if he can graduate he can go straight to university but he has to have a foundation, a diploma, then continue to college and that's all from the age of 15," Viona said when present at the studio Morning Ambyar Trans TV.
"The lecture is also not medicine but more on economics or IT," he continued.
From Viona's story, her eldest child, Syawal, has now graduated from Curtin University in Singapore.
While her second child, Nayla is currently studying at PSB Academy City Campus, Singapore.
His youngest child, Cannavaro is also preparing to continue his studies in Singapore.
In line with Viona, Eko Patrio also explained his views on the education of his children.
He is grateful that his three children can hold the responsibility.
"I don't need them to be smart or smart, I don't have to make a championship competition because I believe they have their own responsibilities. Thank God, the results are like they are now," explained Eko Patrio.
"Learning is only material that is important for experience. Many of my friends at school were smart but when they graduated they were confused about what to do. Learning patterns are different. (Age) 15 years old already being able to go to college is a bonus, thank God," he concluded.
(dis/and)
Also watch the following video: