Denny Sumargo's Story Was Once Entrusted to an Orphanage Because Mother Worked to Pay Debt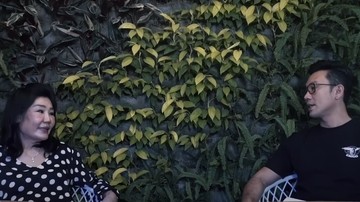 Newsdelivers.com –
Denny Sumargo tells the story of his life when he was in trouble as a child. He was once entrusted to an orphanage to sleep on the street because he was kicked out of the house he was staying in.
The bitterness of Denny's life began when his mother separated from his father. At that time, Denny wasn't born yet, Mother.
Denny's parents separated because they did not get the blessing of the mother's family. At that time, Denny's mother had a different religion and race from his father.
"At that time, they were married to different religions and that was what made them disapprove of their parents from Mama's side. Same race (did not approve). In ancient times Chinese were still not allowed to marry non-Chinese," said Denny, quoted from YouTube Tuah Creation. The HaiBunda team has received permission to lift this story.
"When they fought, the mother's womb was between 7 and 9 months, they separated. That's where the mother had to live alone," he continued.
Denny was sent to an orphanage
Since separating from her husband, Denny's mother has lived alone. He also experienced economic difficulties so that he had to owe money to the hospital to make up for the newborn Denny.
"He had to find his own hospital, go to the hospital himself, give birth to me, he couldn't pay for the hospital. Three days after giving birth, he borrowed money to redeem me at the hospital," said Denny.
After being born, Denny was placed in an orphanage while his mother went out to earn money. All that was done by the Mother to pay debts.
"Then I was put in an orphanage for him to find money first to pay off debts, because my mother didn't like debt," said the 41-year-old man.
Since he was small, Denny has often moved his place of residence because his mother entrusted him to him. When he finally had to leave Denny in an orphanage, his mother was determined to raise her son.
"So I have been entrusted since I was small. My mother told me that she wanted to drop me, but she didn't have the heart, then when she left me at the orphanage she wanted to stay, then she came, she saw my face, her tears fell, then suddenly someone knocked from his heart, he finally said there, 'I will raise this child so that this child can become someone who can be useful'," said Denny.
Little Denny grew up to be a cowardly child because he was often bullied in his surroundings. In fact, the man who is familiarly called Densu admitted that his mental condition was damaged due to being bullied.
"I was often bullied every day, at school I was timid, my mentality was damaged," he said.
When he was little, Denny was kicked out because he was caught stealing. He even slept in front of other people's houses and was the bus driver. What's the story like?
Read the next page.
For mothers who want to share about parenting and can get lots of giveaways, let's join the HaiBunda Squad community. Register click HERE. Free!
Also check out 5 facts about Olivia Allan, Denny Sumargo's wife, in the following video:
[Gambas:Video Haibunda]