Bali Hospitality and Tourism Industry after the G20
Last year's G20 Summit event which took place in Bali brought thousands of international visitors with an interest in various matters related to the Summit. Long before and after the event took place, many local tourists also came to enjoy the Balinese atmosphere throughout the preparation period until after the G20 Summit.
Imam Wibowo is one of the many Jakarta residents who have come to Bali to experience all the improvement in the atmosphere in connection with the holding of the G20 Summit there. To VOA, Imam shared about his experience.
Imam Wibowo. (Photo: Private Doc)
"Why do I really want to go to Bali after the G20, because there is hope that Bali will become a more beautiful, more orderly, neater place. And maybe they also have hope, friends in Bali have a new kind of optimism after they have the honor of being the host of an international event and what is sure to get worldwide attention, Bali is not just an event, it is considered a friendly island. moreover suddenly there were dozens of world heads of state present there," he explained.
Imam admitted that after about a year of not visiting the Island of the Gods, he became increasingly curious about how things were now.
"So, I want to feel how it feels, and visually, what Bali is like after the G20. Bali is crowded, because there are lots of 'nonsense' people who, after passing the G20, then they extend, to stay in Bali, enjoy Bali after they work, are busy, then they want to relax (relax, ed.) so they can get a lot it's very visual that different people from various countries finally got the chance to go to Bali. Maybe there are also some who are going to Bali for the first time, because of the G20," he added.
And after setting foot in Bali, this presenter and MC who likes to teach 'public speaking' does feel that Bali is now tidier than usual. Especially the main areas like Nusa Dua where the VIP delegations from various countries are located are indeed very well organized.
A man carries a surfboard in Nusa Dua, Bali, November 17, 2022. (Photo: REUTERS/Willy Kurniawan)
"So I actually met friends who work in hotels or those who are in transportation, of course hotels are very crowded in Bali, then also in terms of transportation which is called car rental in Bali so they are so confused, you know, that they have run out of cars. But somehow on the positive side, Bali's economy is moving and they are happy because they can finally return to work normally again."
Agung Prastista, businessman of PMG Hotels and Resorts, which owns three star hotels in strategic areas such as Legian, Kuta and Seminyak, acknowledged this. Agung told VOA how the G20 Summit had a positive impact on the hospitality business.
Great Prastista. (Photo: Personal Doc)
"So indeed the impact of the G20 is enormous on Bali tourism, which is most likely due to the condition of the area around Nusa Dua that is full, and also very tight security for entry and exit there, therefore guests may choose not to stay there. the area used for the G20 event," he said.
"Therefore they moved to our area in Kuta, Legian and Seminyak and eventually caused occupancy from last October and November to increase. It is unusual for November to be as high as this time (of the year). So even though we don't get a significant impact directly, but we got the payoff. Hopefully they will stay and they will also fall in love with the Legian area, in the end they can extend their stay or for a future stay they can recommend their friends to stay in Legian and Seminyak," added Agung.
Meanwhile, according to Komang Astawa, Managing Director of Astadala Hospitality which manages a number of resorts, exclusive villas and spas in Bali, the impact felt is more on Bali's image in the eyes of the world.
Komang Astawa. (Photo: Personal Doc)
"The conditions after the G20 which took place in a lively and successful manner had a huge impact on the image and branding of Bali in particular, and Indonesia itself in general. So that the condition of Bali will be exposed to a large extent to all corners of the world, especially by being exposed to our readiness for events like the Summit for the presidency, the brand awareness is very good," he said.
"So that indirectly the readiness to host guests from abroad to return to Bali will be very large. Even though we can see from the development of the pick-up trend after the G20 it is relatively stable, even some properties, especially villas or hotels, have started to have difficulty finding rooms at the event. Christmas and New Year. Incidentally, there are also several additional overseas flights that have come to Bali, in recent times, so that it will rediscover the occupancy rate of friends in the accommodation sector," he added.
Even this was approved by Wayan Winawan, Director and co-founder of Karaniya Experience, which offers a number of villas, spas, restaurants and wedding event services. According to him, economically Bali will feel it in the long term.
Wayan Winawan. (Photo: Personal Doc)
"We believe this is very good for Bali and Indonesia, for tourism, especially in our sector, because it will give more trust to Bali destinations, of course. With more and more opening, more and more countries and planes have headed for Bali, I think with the addition of this G20, it will give confidence, give tourists a sense of confidence to visit and travel to Bali," he said.
Learning From the Pandemic
The three entrepreneurs also told VOA what things they could learn to anticipate a crisis in the world of tourism in Bali if this prolonged pandemic happened again. For Agung Prastista, he will prioritize more mature financial planning.
"I see that the most priority is that we really have to arrange financial planning, yes, we have to have an unexpected reserve fund. Maybe the contingency plan is yes, where if something happens, we still have a guide, a reserve, which can still make our company sustainable," said Agung.
According to him, there are many companies that may not allocate funds properly so that in the end they close their companies, and don't take care of them. Or there are also those who, when conditions return, they cannot reopen properly because the abandoned property is quite damaged, and there are no funds to restore the damaged property.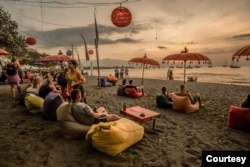 Bali's tourism sector is starting to recover after the COVID-19 pandemic. (Photo: Courtesy/Kemanparekraf)
"Second, we must remain committed to what we are doing, indeed in special conditions like this pandemic no one can anticipate. I mean that commitment, we have employees, we have obligations to them, don't let us pick ourselves when the conditions are good. , but when things are hard, we just leave them," said Agung.
Apart from that, Agung also added strategic planning to make business diversification which according to him "don't put all businesses in one basket". So if this pandemic happens again, he can sort out which sectors can survive, because he believes not all sectors will be affected, for example the food sector (restaurants) and self-service retail. Komang Astawa also agreed to this.
"We can also review existing products, especially in the tourism sector where the role of the domestic market is very important and should be relied upon in the future. Moreover, we must also be prepared for product diversification so that we can provide a wider variety of products for guests visiting Bali, both domestically and internationally," he said.
The reason is, said Komang Astawa, customer behavior in the past two and a half years has changed a lot from the pre-pandemic era. So they must still be able to monitor trends from time to time according to the needs of guests, especially the food and beverage sector which has changed a lot from the previous trend.
"With the development of technology (such as online ordering) so that guests feel more comfortable. We also cannot forget the 'digital nomads' who play quite a lot, because now the trend is young people, they can enjoy their days chili they work," explained Komang Astawa.
Meanwhile for Wayan Winawan, his experience during the pandemic opened his eyes to further strengthen his business in terms of crisis management.
"We were taught by the pandemic to prepare better crisis management, prepare reserve finance to better back up hotel operations. Previously, we only prepared reserve funds for the hotel to be able to run without guests for six months, but apparently it was not enough," said Wayan.
"We must prepare longer reserve funds, so that if there is another crisis in the future, we will be operationally stronger," he said.
Also, continued Wayan, how can they prepare a hotel operation plan by adding principles on how hotel operations are more environmentally friendly.
"How can hotel operations provide better local support, using the principles of sustainability to our hotel operations for sustainable tourism," he concluded. [aa/ka]