Anti-terror Densus 88 Secures 5 Suspected Terrorists in Central Sulawesi
POSO (SEED) —
Head of the Public Information Sub-division, Central Sulawesi Regional Police Public Relations, Kompol Sugeng Lestari, Friday afternoon (17/3), explained to VOA that the five suspected terrorists who were arrested were involved in the Jamaah Islamiyah (JI) network group. Four people were arrested in Palu City, and one person was arrested in Sigi Regency.
"Densus 88 has also secured several pieces of evidence, including 13 books of various types. Then, a bundle of documents related to a foundation. Then, there are arrows, air rifles and others," said Kompol Sugeng Lestari when contacted from Poso.
The suspected terrorists who were secured have the initials AF (41), KB (52), MA (42), ZA (42) and RA (46). Densus 88 is still conducting an examination of the five people.
"While investigating his involvement. Who and others are still being investigated by Densus, "explained Sugeng Lestari.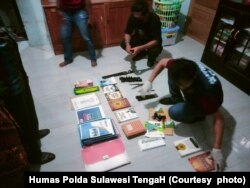 A number of Anti-terror Densus 88 members examine evidence in the form of books that were confiscated when they arrested 5 suspected members of the Jemaah Islamiyah (JI) network in Palu and Sigi, Central Sulawesi, Thursday (16 March 2023) (Photo: Central Sulawesi Regional Police Public Relations)
Regarding the arrest, Sugeng appealed to the people in Palu and Sigi City to remain calm and carry out their activities as usual.
Reveal Details of Suspected Terrorist Involvement
Director of the Celebes Institute in Palu, Adriany Badrah, assessed that the police needed to inform the public in detail about the involvement of the five people arrested in suspected terrorism cases.
"When this is not published in a transparent and detailed manner to the public, it will cause ripples. So the lighter later because there is a sense of disappointment. There have been narratives like that," said Adriany.
According to him, the annihilation of the East Indonesia Mujahidin (MIT) group by the security forces in 2022 and the continuation of the Madago Raya operation in 2023 will be able to prevent the sleeper cells of the terrorist network in Poso, Parigi Moutong and Sigi Regencies from awakening.
However, the terrorist cells seem to shift their activities to Palu City, which is more homogeneous and has more complex socio-economic dynamics.
"So the space is more vacant. So, this is once again, why if intelligence works optimally and is also strengthened by its infrastructure, this should have been finished long ago. This is not meant to be piecemeal because this raises distrust about this handling," said Adriany.
Adriany added that an inclusive deradicalization program is needed to break the chain of radicalism that leads to acts of violence and terrorism. These programs do not only focus on empowering former terrorism convicts, but also on empowering the surrounding community. [yl/ft]