Anang Hermansyah & Ashanty Live the First Ramadan in the Holy Land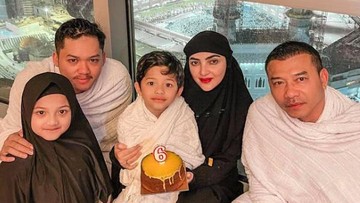 Newsdelivers.com, Insertlive –
Anang Hermansyah's family left for the Holy Land to prepare for the Umrah pilgrimage as well as Ramadan fasting.
Not only bringing their families, Ashanty and Anang brought along employees who had worked with them for a long time.
"I have made an appointment with Aurel to go for Umrah together. Here I am going with 40 other people like employees who have worked with me for a long time," said Ashanty when met at Soekarno Hatta Airport, Newsdelivers.com, Saturday (18/3).
"Honestly, I am very happy to be able to bring many employees to go to God's house," he continued.
Anang Hermansyah added that his departure to the holy land was the most beautiful birthday present.
"Yes, this is indeed the most beautiful gift, especially since this is the first time spending Ramadan in the holy land," said Anang.
"Even though my sister (Aurel) said it was hot in Arabic, the most important thing is her intention to worship," he continued.
When asked about his health condition, Ashanty explained that he is currently only focusing on treating his sinuses.
"Thank God, all the drugs have been released, all I have to do is bring sinus medicine. I'm healthy and I don't want to keep complaining about pain," he concluded.
(dis/dis)
Also watch the following video: