All England 2023: Defeated by Chinese representatives, Rehan/Lisa's steps stop in the semifinals
Suara.com – Mixed doubles Rehan Naufal Kusharjanto/Lisa Ayu Kusumawati made their best performance in the semifinals of the All England 2023 although in the end they had to lose to Zheng Si Wei/Huang Ya Qiong in a rubber game 17-21, 21-13, 13-21 in Birmingham , England, Saturday.
The Indonesian duo appeared with high fighting spirit, through their ability to defend against opponent attacks and were able to catch up even though they were in an unfavorable situation in front of the world number one mixed doubles.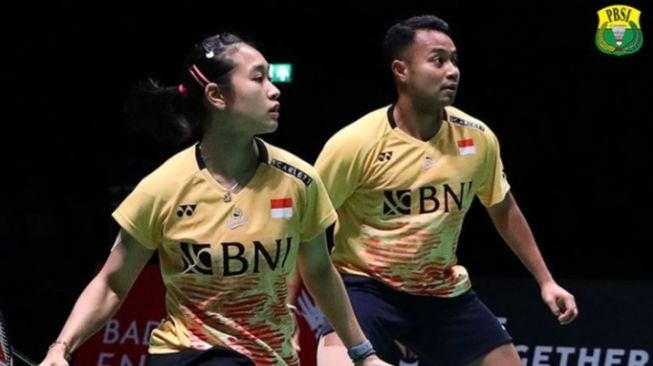 Rehan Naufal Kusharjanto/Lisa Ayu Kusumawati (instagram.com/badminton.ina)
Rehan/Lisa stuck to the points in the first game, so there was a chase after the numbers. The Indonesian duo were able to respond to opponents and steal points to equalize the score from 11-11 to 15-15.
Unfortunately, this exciting competition ended when Rehan/Lisa were not calm towards the end of the game, making it easier for the mixed doubles from China to win a number of consecutive points and close the opening match with a score of 17-21.
Also Read: Eliminated in the Quarter Finals of the All England 2023, Anthony Ginting: My Mistakes in Small Details
The bustling action of chasing scores also repeated itself in the second game. This time, Rehan/Lisa tried to catch up to regain the advantage that had been achieved at the start of the game.
Having led with a score of 7-1, Rehan/Lisa actually fell behind Zheng/Huang who won five points in a row to become 8-11.
Rehan/Lisa's patience paid off when they were able to win seven consecutive points and regain the advantage over the Chinese duo with a score of 18-12.
Rehan/Lisa's game looks solid with good forward play. Zheng/Huang's punches were accurately parried and also killed as soon as they got the chance. Rehan/Lisa also ended the second game with a score of 21-13 after 21 minutes of fighting.
However, Rehan/Lisa's steps at the All England 2023 must end in the semifinals. The defense that was built was not strong enough to block Zheng/Huang's increasingly massive attacks through hard smashes from both players.
Also Read: This is the Amount of the 2023 All England Prize, Players who have reached the Round of 32 also get their share
Rehan/Lisa also took the lead at 7-5 and 8-7, which unfortunately did not last long because they were overtaken by Zheng/Huang.
Rehan/Lisa's return also became uncontrollable, their punches were repeatedly widened and declared out by the umpire. The combination of inferior strategy and unforced errors ensured that Rehan/Lisa's steps were stopped in the semifinals of the BWF Super 1000 tournament with a final score of 17-21, 21-13, 13-21.
[ANTARA]