Tajir Twist, This Is the Reason Viona & Eko Patrio Give Children Pocket Money of Only IDR 50,000 Per Day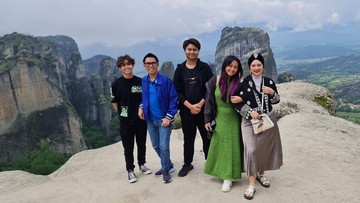 Newsdelivers.com –
Eko Patrio and Viona Rosalina have been living in a household for 21 years. They have successfully raised their children to study abroad since they were 15 years old.
Eko and Viona's three children have grown up. They are Syawal Adrevi Putra Purnomo, Nayla Ayu, and Cannavaro Adrevi Putra Purnomo.
Syawal has now graduated from the Curtin Singapore campus, while Nayla will soon follow from the PSB Academy City Campus. They have lived life as students since they were 15 years old, Mother.
Viona said that this was because Syawal and Nayla had attended a special accelerated program at their school since they were in junior high school.
"His school system is indeed a term up to grade 4 junior high school. There is another sequel, he can choose to continue high school or he can graduate directly to university," said Viona, quoted from the TRANS TV Official YouTube channel.
"But he has to be like probation first, a new diploma to university. That's from 15 years. Only his studies are not like medicine or engineering, more on economics, IT, public relations, and so on," he explained.
Meanwhile, their youngest son, Varo, is still studying in his first year of high school. He is still deciding whether to continue high school until the 3rd year, or jump straight into college like his two older brothers.
Blessed with three smart children, Eko Patrio admits that he has never asked his children to be ambitious in achieving achievements. All that he did at the will of the children.
"I don't tell children to be smart, okay? So at home we never make a competition for how many champions, what red marks, why? Because I'm sure he has his own responsibilities. Thank God I let him go like that, he was the one who reported everything, the results Thank God, children are like that," said Eko.
The artist who also enters politics does not only prioritize children's education in the academic field. However, he prepared them more to dive right into everyday life.
"The point is, how does it go to school? The important thing is being able to read, count, understand people, have ethics and manners, that's enough for me. But if suddenly he's smart, he can go to college at the age of 15, for me that's a bonus," he said .
Sending their children to Singapore since they were teenagers, Eko and Viona cannot deny that they often feel worried and cry. Read on the next page.
For mothers who want to share about parenting and can get lots of giveaways, let's join the HaiBunda Squad community. Register click HERE. Free!
Also watch the video about Ratna Galih who lives in Bali with her five children:
[Gambas:Video Haibunda]