Replay! Child Abused by ART, This is a Lesson from Jevier Justin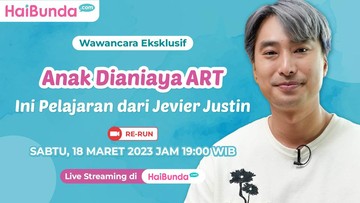 Newsdelivers.com –
As parents, of course we will do the best for our little one, Mother. Especially in caring for children, sometimes there are several conditions that make us need the help of a household assistant (ART) or a baby sitter.
And, it should be admitted that finding ART that fits our criteria is not easy. There are not a few household members who, instead of helping, act unexpectedly, harm, and even have the heart to hurt a child.
That's what recently happened to the family of presenters Jevier Justin and Tiffany Orie. Their daughter Shannuel Favory Justin, who has special needs, received harsh treatment from the maid named Ratna. This happened when the two of them were in the United States to bring in a new walker so Shan could get up and walk.
Shan is Justin and Tiffany's first daughter who has cerebral atrophy so she needs help to carry out her daily activities. "Usually Shan will be accompanied by his mother every day, because Tiffany has decided to become a full-time mom for Shan's sake," Justin's father told Haibunda some time ago.
However, because they had to leave for the US to bring a walker for Shan, the two of them decided to leave Shan and his sister with several household members and relatives. Unexpectedly, when they returned from the US, Justin and Tiffany found out that Shan had been treated harshly by the 17-year-old maid.
Justin also felt very angry and almost out of control, but he tried to calm down and trusted his wife to take care of this. "What father can bear to see his only digit daughter? But okay, I'll give it all to Tiffany because I'm afraid I'll get out of control," he said.
Even so, both of them decided not to criminalize the ART. What is the reason? Apparently all because of Shan. They saw that after being treated roughly, the beautiful girl who is now 7 years old did not show any trauma, on the other hand Shan instead showed a happy face when her father and mother came home until the following days she was still cheerful.
"That's where I feel I learned a lot from Shan, learned how to forgive and forgive someone," he said.
Mother, let's watch directly, Jevier Justin's full outpouring in the Exclusive Interview which will be broadcast live streaming on Saturday, March 18 2023 at 19.00 WIB. Only at HaiBunda.com!
See also Justin's father's story about how funny Shan behaved when he got a sophisticated walker from the US. Also, how did Justin's father and Tiffany's mother strengthen each other during the 7 years of raising Shan. Not to forget, Justin's father's deepest hopes for his beloved daughter.
For mothers who want to share about parenting and can get lots of giveaways, let's join the HaiBunda Squad community. Register click HERE. Free!
Also watch the video below:
(about/about)