Having experienced the difficulty of preparing for a wedding, this couple created the Xpress Marriage Application
Suara.com – Preparing for a wedding is actually something exciting, especially for something sacred. But preparing for a wedding can also be a hassle, especially for very busy working couples.
This was felt by the married couple Goldwin Yustanto and Angela Tee. At that time, Goldwin and Angel were preparing for a wedding in the midst of a pandemic, in 2020 to be precise.
At that time, they admitted that they experienced many challenges. In a short time, they had to prepare everything alone without the help of their family or anyone else.
"That's where the idea occurred to provide a solution for couples who want to get married quickly at a very, very cheap price but the results are good and satisfying," said Goldwin Yustantio, who is also a musician and music producer, in a statement received by Suara.com.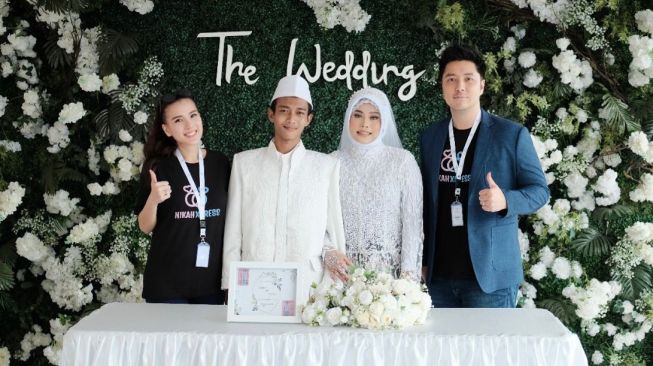 Goldwin Yustanto and Angela Tee the founders of the Nikah Xpress application with the wedding couple. [dokumentasi pribadi]
Goldwin and Angela then founded Nikah Xpress, a digital platform that is a modern solution for young couples who want to get married quickly, independently, without the hassle, and at a low cost.
Nikah Xpress provides various marriage services that can be accessed via the Nikah Xpress website and application. This application also prepares all the needs related to marriage. Including location, aisle decoration, makeup artist, wedding dress, MC, to documentation.
"We really want to provide a solution for Indonesian people from all walks of life so that it's not complicated and stressful if you want to get married. Just bring yourself. We provide a wedding studio that has been beautifully decorated and can help many couples to be happy. They are also official and legal in God's eyes and the laws that apply in Indonesia," added Angela Tee.
Various wedding packages are offered for couples who want to get married as soon as possible. Promo prices start from IDR 8 million, IDR 12 million to IDR 18 million.
"The wedding fee can be paid in three to six installments until before the wedding day. We honestly want to really help couples who want to get married independently, they don't need to go into debt here and there, but they can do it in installments," Angela Tee continued.