Growing concern over the security of the TikTok platform
China is accusing the United States of spreading disinformation amid reports that President Biden's administration is calling for TikTok's Chinese owners to sell shares in the company's American subsidiary. The Chinese Foreign Ministry's statements are another response to efforts being made in the United States to limit the app's influence.
TikTok again rejected claims that its Chinese parent company, ByteDance, is sharing its app users' data with the Chinese government, or that it is spreading propaganda and disinformation on its behalf.
China's Foreign Ministry on Wednesday accused the United States of spreading misinformation about the potential security risks of using the TikTok app, following a report in the Wall Street Journal that the US Commission on Foreign Investment, which is part of The Treasury Department has threatened to ban the app's use in the United States unless its Chinese owners divest their stake in the company's American subsidiary.
So are the risks to data security real? And should users worry that the TikTok app will be deleted from their phones?
Here's what you need to know:
WHAT ARE THE CONCERNS ABOUT THE TIKTOK APP?
The FBI and Federal Communications Commission have warned that ByteDance may share TikTok user data, such as click history, location and biometric identifiers, with China's authoritarian government.
A law passed by China in 2017 requires companies to hand over personal data related to the country's national security to the government. There is no evidence that TikTok has handed over such data, but fears have grown due to the large amount of user data it collects, like other social media companies.
Concerns about the TikTok app grew in December after the company ByteDance said it had fired four employees who had accessed the data of two journalists from Buzzfeed News and the Financial Times, as part of the company's investigations into the source of a leaked report about the company itself.
HOW IS THE UNITED STATES REACTING?
White House National Security Council spokesman John Kirby declined to comment when asked Thursday about the Chinese foreign ministry's comments about the TikTok app, citing the investigation being conducted by the Commission on Foreign Investment.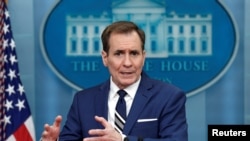 John Kirby
Mr. Kirby also declined to confirm whether President Biden's administration has sent TikTok a letter warning it that the United States government could ban the app if the Chinese parent company does not sell shares in its U.S. subsidiary, but added that "we have legitimate national security concerns about the integrity of the data we must monitor."
In 2020, then-President Donald Trump and his administration tried to force ByteDance to sell its company in the United States and ban TikTok from app sales platforms. The courts blocked that effort, and President Joe Biden rescinded former President Trump's executive orders, but he ordered an in-depth study of the issue. A planned sale of TikTok's assets in the United States was also canceled after President Biden's administration negotiated a deal with TikTok to address some of its national security concerns.
Democratic Sens. Richard Blumenthal and Republican Jerry Moran sent a letter in February to Treasury Secretary Janet Yellen, asking the Committee on Foreign Investment, which she chairs, to "expeditiously conclude investigations and put tough structures in place "restrictive" between TikTok's United States operations and parent company ByteDance, including a possible separation of the companies.
At the same time, lawmakers have introduced proposals to expand the Biden administration's authority to block TikTok in the US. The White House has already expressed support for this bipartisan Senate proposal.
WHAT RESTRICTIONS ARE THERE ON THE TIKTOK COMPANY?
On Thursday, British authorities announced a ban on the TikTok app on government-issued phones for security reasons, following a similar decision by the European Union's executive branch, which temporarily banned the TikTok app from its staff's phones. Denmark and Canada have also announced similar measures to block the TikTok app on government-issued phones.
Last month, the White House said it would give US federal agencies 30 days to delete the TikTok app from all government-issued mobile devices. Congress, the US armed forces and more than half of the US states have already banned the use of the app on official devices.
WHAT IS THE TIKTOK COMPANY SAYING?
TikTok spokeswoman Maureen Shanahan said the company was already responding to security concerns through "transparent, US-based protection of user data and systems in place, with robust third-party monitoring, verification and control." the third".
In June, TikTok said it would transfer all US user data to servers controlled by Oracle, the US Silicon Valley company it chose as its US partner in 2020, in a bid to avoid a ban. in the USA. But it is keeping backup copies of the data on its servers in the United States and Singapore. The company said it expects to delete the data of US users from its servers, but did not give a time frame for fulfilling that promise.
TikTok CEO Shou Zi Chew will testify next week before the House Energy and Commerce Committee about the company's privacy and data security practices, as well as its relationship with the Chinese government.
Meanwhile, TikTok's parent company, ByteDance, has been trying to position itself more as an international company and less as a Chinese company. It was founded in Beijing in 2012 by its current CEO, Liang Rubo and others.
Theo Bertram, TikTok's vice president of company policy in Europe, said in a tweet on Thursday that ByteDance "is not a Chinese company." Mr Bertram said 60 per cent of its owners are global investors, 20 per cent employees and 20 per cent founders. Its executives are located in cities such as Singapore, New York, Beijing and other metropolitan areas.
ARE SECURITY RISKS LEGITIMATE?
It depends on who you ask.
Some privacy activists on tech platforms say that while the potential abuse of privacy by the Chinese government is worrisome, other tech companies have data-gathering business practices that also exploit user information.
"If policymakers want to protect Americans from surveillance, they should support a basic privacy law that prohibits all companies from collecting so much sensitive data about us in the first place, rather than engaging in what looks like a xenophobic show that does nothing to protect users", says Evan Greer, director of the non-profit organization "Fight for the Future".
Karim Farhat, a researcher at the Internet Governance Project at Georgia Tech University, says the sale of TikTok would be "totally irrelevant in terms of alleged 'national security' threats" and would be against "any the State Department's "Free Market Principles and Norms" on Internet Freedom Principles.
Others say there are legitimate reasons for concern.
People who use TikTok may think they're not doing anything that might interest a foreign government, but that's not always the case, says Anton Dahbura, executive director of the Information Security Institute at Johns Hopkins University. Information relevant to the United States is not strictly limited to nuclear power plants or military facilities, it extends to other sectors, such as food processing, the finance industry and universities, he added.
IS THERE A PRECEDENT FOR BANNING TECHNOLOGY COMPANIES?
Last year, the United States banned the sale of communications equipment made by Chinese companies Huawei and ZTE, citing risks to national security. But banning the sale of devices is easier than banning an app that users can access over the Internet.
Some civil liberties organizations have said such a decision could end up in the country's courts on the grounds that it could violate the First Amendment to the US Constitution, which protects freedom of expression.