China Calls for Ukraine-Russia Peace Talks
China hopes there will be a peaceful solution to the conflict in Ukraine and urges Russia and Ukraine to negotiate peace, the Chinese foreign minister told his Ukrainian counterpart in a telephone conversation on Thursday (16/3).
The Chinese Foreign Ministry said in a statement that Qin Gang told Dmytro Kuleba that China "has committed itself to promoting peace and advancing negotiations and asked the international community to create conditions for peace talks."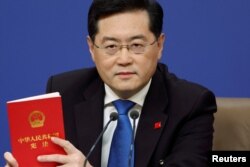 Chinese Foreign Minister Qin Gang holds a copy of the Chinese Constitution during a press conference on the sidelines of the National People's Congress (NPC) in Beijing, China, March 7, 2023. (Photo: REUTERS/Thomas Peter)
Qin also said "China hopes that all parties will remain calm, rational and restrained," according to the statement. Russia's invasion of Ukraine has been going on for more than a year.
Meanwhile, the British Ministry of Defense in its latest intelligence news said that the Russian military and Wagner paramilitary forces had recently seized an advantageous position west of the Bakhmutka River in the town of Bakhmut.
The river recently became a battle front in the war in the city in the Donbas region. Ukrainian troops continued to defend the western part of the city, the report said.
Meanwhile, the report also said Russia was conducting its lowest number of local offensives since January.
"This is most likely because Russian troops have temporarily depleted their fighting strength to such an extent that even local offensive actions are unsustainable," the report continues.
The Russians are likely to increase their "offensive potential" once their personnel and ammunition reserves are replenished. Only then, says the UK defense ministry, will Russian commanders "likely be forced to choose between launching an offensive operation and undertaking a fully credible defense." [uh/ab]