Aurelie Moeremans Has Colli Tumors, Treatment Methods Can't Smile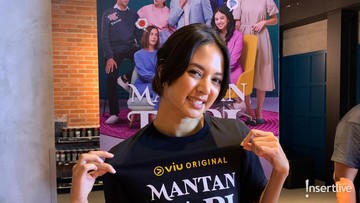 Newsdelivers.com, Insertlive –
Aurelie Moeremans shares some unpleasant news regarding her health condition.
Aurelie admitted that she had a Colli Tumor which caused a lump to appear on her neck.
Initially, many social media users realized that there was something strange about the area around the face and neck.
"At first I didn't want to share because I thought it would be a while but it turns out it's been more than 3 months and it hasn't healed yet and many are starting to realize (even though I've tried to cover it up, edit my endorse pics etc but your eyes are keen!) so here's my 2023 going so far," said Aurelie on Instagram, quoted on Friday (17/3).
"So the story goes, in December last year, after shooting my 2nd series, as soon as I got a day off, I went straight to the hospital for an ultrasound test for 2 lumps on my neck… it turned out that the results were: Colli tumor… Calm down, the name is just scary but the point is that a lump that appears because of an infection, somewhere … Thank God it's not a malignant tumor or anything …," he continued.
Aurelie then conveyed the doctor's diagnosis regarding the cause of the Colli Tumor appearing.
The doctor also suggested that Aurelie take treatment in the form of Botulinum toxin injections.
Initially, Aurelie was afraid and hesitant to do this method of treatment.
"There is a doctor who suspects that it appears because I have TMJ (just google it) and when I sleep I like to grind my teeth like that when I'm stressed 😅 Then the doctor said the medicine was injected with Botulinum toxin. The doctor said, his wife was exactly the same and recovered using it. . Convincing right ..," said Aurelie.
"I told my doctor that I was afraid of injecting anything, especially in my face because it's my work asset but the doctor said it would be okay, this is only for the TMJ, the injection is in the back of the jaw and the dose is very small, so everything I'm afraid of It can't happen," he continued.
[Gambas:Instagram]
Aurelie then ventured to do the Botulinum toxin injection method.
However, this healing method made it difficult for Aurelie to smile.
"Yes, I finally got up the courage to inject myself because I'm tired and it keeps hurting, it's been more than 3 years that my jaw tends to swell and the doctors haven't been able to find out why. If this is the only way, inject me dooook! 😂, "
"The result: 2 weeks after the injection, at the beginning of January 2023 the lower part of the face seems paralyzed!! Can't open wide, stuck! Can't smile at all.. now it's been 3 months, much better but can't smile like first… haven't been able to take on shooting jobs that have to be expressive…" Aurelie explained.
Aurelie admits that she has been insecure for 3 months because she has difficulty smiling.
Not only that, Aurelie also admitted that there were lots of projects that were canceled due to this.
However, Aurelie tried to think positively and saw this as a lesson from God.
"It's been 3 months that I don't feel confident about meeting people, especially new people, because if I want to smile, it's like someone mocking me, like someone who isn't sincere, I swear 😂 If I laugh, I'm like a zombie, I want to bite people, if my mom says.. It's that ugly and It's impossible, right, every time I meet someone, I have to explain all of this," said Aurelie.
"Lots of exciting projects have been canceled, but I'm just thinking positively: maybe this is God's way of telling me to rest first? Don't work all the time 😂," he concluded.
(ikh/ikh)
Also watch the following video: