Asri Compassion's Story Treats a Child with Plus 16 Eyes to Decide to Enter an Inclusive School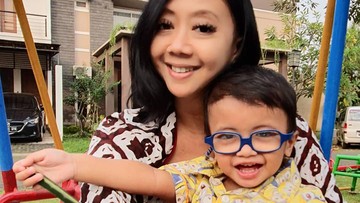 Newsdelivers.com –
Asri Welas shared the latest news regarding the health of his second son, Rayyan Gibran Ridha Rahardja. The 5-year-old boy will enter an inclusive school.
Asri Welas has cared for the son who is familiarly called Dek Ibran with great care. Since he was 3 months old, Ibrahim has had cataracts in his eyes.
Since undergoing treatment to get rid of cataracts, Rayyan Gibran Ridha Rahardja had to wear plus 16 glasses. He still continues to wear glasses to this day, Mother.
"Sister @ibran_gibran at birth had to wear +16 glasses," wrote Asri Welas in uploading a video on his Instagram account @asri_welas.
Now 5 years old, Gibran's eye condition is starting to show improvement. Asri Welas recently received good news after having his son checked by an ophthalmologist.
The mother of three said that her son's eye condition was progressing well. The plus value is down, even if it's only a little.
"Thank God yesterday, brother @ibran_gibran's eyes were checked by Prof. Rita to find out the condition of brother @ibran_gibran's eyes and thank God brother @ibran_gibran + is down from +16 now +12," said Welas.
With his eye condition starting to improve, now Ibran must also prepare to enter elementary school education. To help with the needs of his son's eyes, Welas plans to put Ibran in an inclusive school.
Welas said that now he has received a letter of introduction to register Ibran at the school.
"Thank God, I already have a letter from Prof. Rita regarding the health of brother @ibran_gibran's eyes to introduce brother @ibran_gibran to school," he said.
The star of the soap opera Husbands and Fears of Wives deliberately chose an inclusive school as a place for his son to study. According to him, he got this decision after discussing it with the psychologist who handled Ibra.
The woman born in 1979 wanted her son to have access to learning in the right environment for him.
"Yesterday I also checked with a child psychologist to find out the learning system and cognitive abilities of @ibran_gibran's brother, so that he chose the right school for @ibran_gibran's brother and thank God the result was that @ibran_gibran's school was chosen with inclusion," he said.
In the uploaded video, Asri Welas shows the moment when Ibra was undergoing an examination at an ophthalmologist. The son looked calm and complied when he was asked to use a number of tools.
Not to forget, Asri Welas also conveyed his prayers and hopes for Ibran who will soon start school.
"Mami and papa @galih_ridha pray that brother @ibran_gibran gets the right school for brother @ibran_gibran," said Welas.
Asri Welas's duties as Mother are not enough to meet Ibran's educational and health needs. Welas shared his story about how he educated Ibrahim who was very introverted and had been a victim of bullying. Read on the next page.
For mothers who want to share about parenting and can get lots of giveaways, let's join the HaiBunda Squad community. Register click HERE. Free!
Also watch a video on how to deal with gadget screens that have a bad impact on children's eyes:
[Gambas:Video Haibunda]