2 Important Things to Optimize Your Little One's Intelligence Early on
Newsdelivers.com –
The first day of LazMall Daily Bunda Fest 2023 was also enlivened by a talk show with the expert, Mother. Host Andari Agustine also invited a pediatrician, dr. Caessar Pronocitro, Sp.a, M.sc and Head of Brand Enfagrow Dr. Muhammad Lazuardi Putra, took the stage.
Entitled Key Nutrition for Smart Little Ones, dr. Caesar revealed that the Little One needs good nutrition to get optimal intelligence. This nutrition has actually been provided in full by breast milk (ASI).
"To fulfill intelligence, nutrition is needed, and nutrition provided by ASI is the most complete for your little one," he said, in a talk show with Enfagrow entitled Key Nutrition for Smart Little Ones from an Early Age as part of the LazMall Daily Bunda Fest 2023 event, Friday (17 /3/2023).
Furthermore, Caesar also explained that one of the nutrients in breast milk that is good for children's brain development is lactose. There are also several other important nutrients such as protein to fatty acids.
"Lactose is a good nutrient for the development of the little one's brain. There are also other ingredients, including protein, fatty acids, and various other micronutrients," he added.
Adequate nutrition for your little one can be maintained since pregnancy, mother. Not only that, nutrition for yourself is also important to pay attention to when breastfeeding.
How to optimize the potential of children's intelligence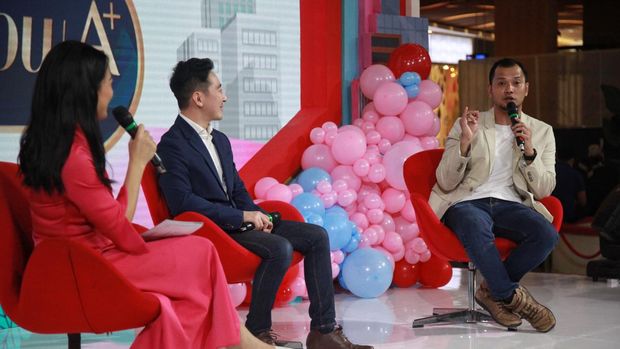 LazMall Daily Bunda Fest 2023/ Photo: Ari Saputra
The first thing that mothers and fathers need to do to help develop a child's intelligence potential is to have sufficient nutritional intake.
"Number one is of course adequate nutrition. For example six months of exclusive breastfeeding, then quality MPASI," he said.
Apart from nutrition, Mother also needs to provide stimulation. The easiest stimulation can be through eye contact and touch when breastfeeding.
"The second thing is, of course, stimulation. Stimulation doesn't have to be complex. The easiest and earliest can be breastfeeding through eye contact and touch. So the little one focuses his vision, distinguishes between father and mother. When he's older, he starts practicing rolling over, practicing sitting," said Caesar.
Meanwhile, Head of Brand Enfagrow Dr. Muhammad Lazuardi Putra said that based on research, parents want their little one's brain development to be a more optimized part.
"The mother's research wants the optimal child to be in which part? What is the main focus is this brain development," he said.
To get this optimal intelligence, of course nutrition must be given from an early age. After that, always monitor children's milestones in various ways including consulting experts.
"To be able to get optimal intelligence, you have to be at an early age. Just follow the milestones. You can consult with experts," said the man who is familiarly called Adi.
In addition to the talk show which presents Pediatrician Dr. Caessar Pronocitro, Sp.a,M.sc, Mother can also watch various interesting talk shows with other speakers and experts at LazMall Daily Bunda Fest 2023 on the second and third days.
Not only interesting talk shows, Mothers and Little Ones can also get millions of rupiah in prizes from various competitions held at LazMall Daily Bunda Fest 2023. Starting from Kids Dance Contest, Baby Crawling Contest, Mother and Little Singing Contest, to Fashion Show Contest.
The weekend fun isn't over yet. Mothers can also enjoy exciting and fun performances from Quinn Salman to singing with Dikta.
There are also exciting and fun activities that you can't miss if you visit the booths of your favorite brand. Call it MamyPoko, Johnson & Johnson, Merries, Enfagrow, Zwitsal, Sweety, Frisian Flag, and many more.
So, what are you waiting for, Mother? Come soon and spend an exciting weekend at LazMall Daily Bunda Fest 2023 at Kasablanka Mall Newsdelivers.com, starting from 17-19 March 2023.
(mua/as)