What are PAS, PTS, and PAT Exams for School Children? Know the Difference Come on Bun
Newsdelivers.com –
On their way to school, they will encounter various tests to evaluate their competence and learning abilities while at that level. It is this exam that determines whether your little one can go to the next level or not.
Well, during the teaching and learning process, evaluation or assessment is very important because it can provide an overview of the extent to which students are able to understand the subject matter. That way, teachers at school can provide additional assistance and support to help students who are experiencing difficulties.
In this case, Mother certainly wants her little one to get a perfect score for her learning outcomes so far. For that, Mother needs to know the kinds of tests that will be faced by the Little One.
In the new curriculum, the forms of evaluation of student learning are called PAS, PTS, and PAT. This term was inaugurated after the publication of Minister of Education and Culture Regulation Number 3 of 2017 concerning Assessment of Learning Outcomes by the Government and Assessment of Learning Outcomes by Education Units.
The name of the exam often changes as the curriculum changes. Maybe before that Mother was more familiar with the terms UAS, UTS, and UKK. Even so, actually the concept that accompanies it is not much different, Mother.
Definition of PAS, PAT, and PTS exams, and their differences
So, to better support and accompany your Little One in his exams, Mother must be familiar with these educational terms. The following is an explanation of PAS, PAT, and PTS summarized from the book Integrated Learning by Wiwy T. PuluSometimes in 2019:
Mid-Semester Assessment (PTS)
Mid Semester Assessment (PTS) is a term used to replace the previous term UTS. PTS is a test that is usually held by schools in the middle of the semester, around the eighth or ninth week.
PTS is a test that covers all the first subjects that your little one will pass in a year of class. PTS itself has a goal to be able to evaluate learning achievements and learning processes in class for the past half semester.
End of Semester Assessment (PAS)
PAS or Final Semester Assessment was previously known as UAS. As the name suggests, this exam is a test that is held at the end of the odd and even semesters. But usually, schools only use the term PAS in exams that are held at the end of odd semesters, Mother.
PAS is a test that is important for your little one to pass to measure their learning achievements for one semester. This can be an evaluation event and a follow-up from PTS, what material is the Little One's weakness and is there any progress from the previous exam.
Usually, PAS has a fairly high weight in the accumulated value of class promotion. So, try your little one to study seriously, don't forget to be accompanied, Mother.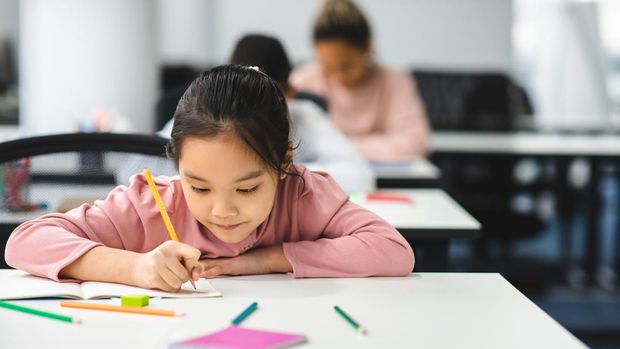 Illustration of a child taking a test/Photo: Getty Images/iStockphoto/Prostock-Studio
Year End Assessment (PAT)
PAT is the final exam that children will pass after passing PTS and PAS. This exam is an assessment carried out at the end of the even semester with material from all basic competencies in the even semester.
In this exam, you will find out your child's academic achievements for one year of study. Just like the previous exams, PAT is also useful for evaluating your little one's learning outcomes.
It is intended that at a higher level or grade the child can better prepare and improve his/her understanding which is lacking in some materials or some subjects.
Those are the Mothers of the types of tests that children will pass in one year of study at each grade level. The exam is something that is important as a learning evaluation material.
However, many students perceive this as pressure and end up doing everything they can to get good test scores.
To prevent that from happening to your little one, Mother must provide an understanding of what the test is for and how to deal with it. Instead of the results, you need to explain that the exam is about the process. If while in class your little one pays close attention to the class, surely his exam results will be good.
The most important thing for children, namely Mother and Father, always accompany and support them. So that your little one doesn't get stressed over the exam, you have to trust your little one that you will be proud of whatever the result is as long as it is the result of your own hard work. Hopefully the information is useful, Mother.
For mothers who want to share about parenting and can get lots of giveaways, let's join the HaiBunda Squad community. Register click HERE. Free!
(for/for)