Viral on TikTok, this woman experiences unpleasant treatment from an Uber driver: complains when lifting a wheelchair to a car
An estimated 1.3 billion people, or 16 percent of the global population, are persons with disabilities, according to a report from the World Health Organization (WHO). One of the problems that is unfortunately still often experienced by people with disabilities is discrimination from the surrounding environment. This has recently been experienced by women with disabilities who use wheelchairs.
When he ordered an Uber, the driver was seen sighing and grumbling that he had to put his wheelchair in the car. He uploaded this incident via social media TikTok and became viral.
A content creator from New York, Karlee Rose, shared the unpleasant experience she had when using Uber services. For information, Uber is a transportation provider company from San Francisco, California that connects passengers with rented vehicle drivers as well as direct ride services.
Rose revealed that his Uber driver was seen "grumbling and sighing" at having to put the wheelchair he was using in the car. At that time, he ordered an Uber to go to his destination. When the driver came, Rose asked for help to get the wheelchair into the car, but the driver didn't look happy.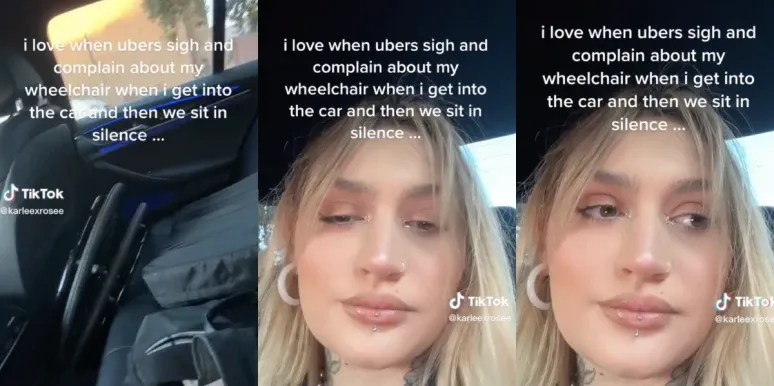 This Woman Experienced Unpleasant Treatment from Uber Drivers/ Photo: Screenshot/TikTok
"I love when [pengemudi] Uber complained about my wheelchair when I got in the car and then we sat in silence," reads the narration in the TikTok video he uploaded, reported by Your Tango.
In her video caption, she added that after getting her wheelchair into her car, the Uber driver can be seen wiping his hands, as if Rose's wheelchair had dirt on it.
In a follow-up video, a netizen commented that maybe the Uber driver was just trying to clean up the mess. However, Rose explained that the Uber driver's body language suggested he looked like he was cleaning his hands, even though he wasn't actually touching his wheelchair.
"Indeed, I understand if you want to clean your hands. I don't mind. But leaving the door open and wiping it in front of me is impolite," said Rose.