Uniqlo Invites Women to Appreciate Every Phase of Their Life
March is synonymous with the celebration of International Women's Day (IWD). On March 8 to be precise, women in the world celebrate their struggle to always get equal rights.
This year's IWD theme is Embrace Equity, which includes equality as a living value, not just something that is celebrated for one year alone. In the context of this year's IWD, the Japanese brand Uniqlo also made an inspiring campaign.
Focus on INNERWEAR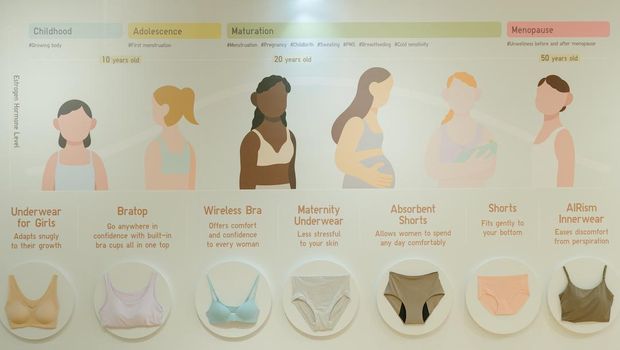 Uniqlo Innerwear/ Photo: admin
The message that Uniqlo wants to convey in this year's IWD campaign is for women to appreciate every change that occurs in their bodies and appreciate it.
"At this moment, UNIQLO would like to invite all Indonesian women to better understand and understand the changes that occur in their growing bodies. We understand that going through changes in every phase
life is not easy," said Evy Christina Setiawan, Marketing Manager for UNIQLO Indonesia.
Most women focus on the problems that occur when their bodies change, but forget that every change is what makes them the strong women of today.
Uniqlo understands that changes that occur sometimes make women feel uncomfortable, therefore, they provide full support, especially in their INNERWEAR design.
The importance of choosing the right underwear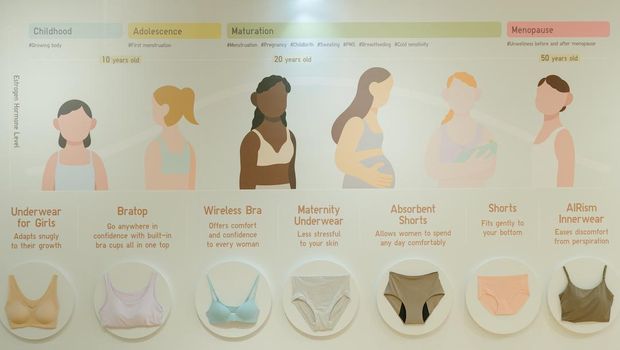 Uniqlo Innerwear/ Photo: admin
Changes in the phase of a woman's life are sometimes accompanied by changes in her body. From the phase of children, teenagers, marriage and pregnancy, to menopause. Each of these phases certainly needs to be supported with the right underwear.
Choosing the right bra during preadolescence will make girls more comfortable experiencing body growth as adults. Pregnant women will need comfortable underwear to support their pregnancy, and beyond.
Therefore Uniqlo introduces AiRism technology which they use to create a comfortable underwear collection that can be used for every phase of a woman's life.
Uniqlo's INNERWEAR collection
1. Children
For children's body phases that are still very developing, comfortable innerwear with simple models is what is needed to accompany daily activities. The Girls AIRism Bra collection with a blend of seamless designs that feel light, soft AIRism materials and fused cups are perfect for your little one who is just starting to learn how to use a bra.
2. Teenagers
In this phase, women will begin to experience their first menstruation. At the beginning of development, usually young girls begin to experience some changes in their bodies but are still reluctant to use a bra. The Bratop collection, tops that are equipped with protective cups such as AIRism Sleeveless Bra Tops and AIRism Camisole Bras can be an option.
3. Mature
In this phase there will be changes in the body with different needs from puberty. Busy activities make women need comfortable underwear, such as wearing a bra that is too tight. The 3D Hold Wireless Bra with a 3-dimensional cup structure is perfect because even though it's wire-free, it can support it perfectly.
This phase also makes many women worry when menstruation arrives. This can be minimized with the AIRism Menstrual Underwear (Sanitary Pants) collection which is designed with three layers consisting of an odor control layer that dries quickly to keep the skin surface comfortable, an absorbent layer that can absorb liquids up to 30-40ml, and a water layer. -resistant made of laminated waterproof material. The soft AIRism material also provides comfort for activities, especially during menstruation.
4. Maternity
One of the important phases in a woman's life is the period of pregnancy and breastfeeding. This phase can be very memorable but will also cause a lot of discomfort due to many physical changes such as weight gain, breasts feeling fuller and more sensitive, skin changes coupled with psychological effects of hormones. Innerwear in soft, breathable cotton and minimal seams will reduce the discomfort experienced as Maternity Underwear (Low Waist). Apart from that, the Ultra Stretch Maternity Leggings and Neat Ankle Maternity Pants collections can also be comfortable bottom choices because they adapt to your body shape from pregnancy to delivery and stay stylish.
After giving birth, the body is still adapting from when it was pregnant. To help restore body shape to its original shape, the AIRism Style Up Underwear (Soft Type) collection can be chosen because in addition to the cut that can make the waist look beautiful, it is also equipped with DRY technology for fast-drying underwear so that it stays fresh when used.
To support the breastfeeding phase comfortably, the Bratop collection can still be used to make it easier for mothers to breastfeed comfortably. In addition, UNIQLO also provides a collection of Bras Without Wire (Ultra Relax) and Relax Lace Bras (Low Neck) to support the breasts with elastic supported by detachable cups so that they can adjust the shape of the breasts and increase self-confidence.
5. Menopause
Around the age of 50, women will enter the phase leading up to or entering menopause. In this phase, women will need to adapt to changes in their bodies, such as feeling hotter and sweating more easily than before. Mix and match the AIRism innerwear collections such as AIRism Ultra Seamless Underwear and AIRism Sleeveless Bra Tops that are very comfortable to use because they are equipped with quick-dry technology with functions that are able to release moisture, odor control, cool touch, and deodorization that feel flexible, smooth, and comfortable as well as its nature that easily absorbs sweat and gives a cool feeling when used even in hot weather.
You can get all of these collections at Uniqlo outlets throughout Indonesia and the Uniqlo Beauties application.
(ayk/ayk)