The sad story of Aghniny Haque, being bullied because she didn't have a father until she became a victim of violence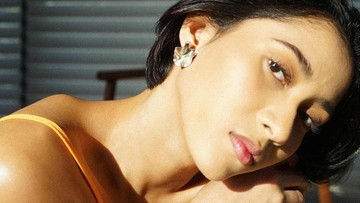 Newsdelivers.com –
The name Aghniny Haque has skyrocketed in the last few years. She is a rising young actress, Bunda.
Debuting on the big screen in 2018, Aghniny has starred in a number of popular films such as KKN in the Dancer Village and Stealing Raden Saleh.
Before trying out the world of acting, Aghniny was also known as an accomplished woman. He won a bronze medal at the 2013 SEA Games when he was still a taekwondo athlete.
Behind her series of achievements, not many know that this 26-year-old girl has gone through a difficult childhood. He grew up without a father figure.
"I live only with my mother. My mother struggles to raise me," said Aghniny, quoted from Falcon's YouTube channel.
"It wasn't easy for my mother to raise me because of financial reasons. So I have to be independent and stronger than children who have both parents," he said.
Aghniny's mother is a woman from Semarang. Meanwhile, his father is a Bangladeshi man who works on a ship. However, Aghniny did not have time to meet her father because she had been abandoned since she was still in the womb.
"So my father worked at seafaring, not Indonesian, met my mother and finally got married. After marriage, got pregnant," Aghniny said.
"Three months after my mother was pregnant, my father left and I never heard from him again. All this time I was a burden, I wonder what it's like to have a father? I was bullied and said that children don't have fathers, illegitimate children, all kinds of things," he said.
Year after year passed, the girl born in 1997 grew into a teenager. At the age of 15, he got the opportunity he had been waiting for. Aghniny finally met his father.
However, that meeting did not leave a special impression on Aghniny Haque's heart. The Melancholia soap opera actress was not happy when she met her father for the first time.
"Finally, after 15 years of my life, my father contacted me again. The first time we met was also strange. For 15 years, the person I most hoped for appeared, but it felt like when we met it was like nothing, there wasn't any chemistry like that, said Agniny.
"What I regret is that I never asked why he left me," continued the film star Satria Dewa: Gatotkaca.
Not only facing bullying for not having a father, Aghniny also had to accept painful things when she grew up.
While working in the field of taekwondo, Aghniny was once a victim of verbal and physical violence from the coach. Read on the next page.
For mothers who want to share about parenting and can get lots of giveaways, let's join the HaiBunda Squad community. Register click HERE. Free!
The story of a child being bullied has also been experienced by Asri Welas, Mother. Check out the story here:
[Gambas:Video Haibunda]