Standard Chartered Holds World of Wealth 2023 with Green and Blue Investment Theme in Indonesia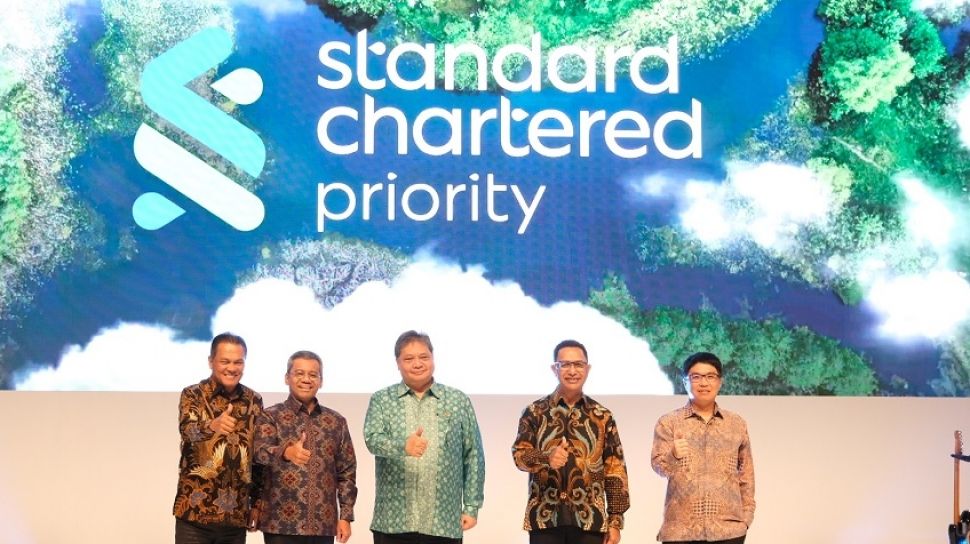 Suara.com – Standard Chartered is again holding the 19th annual World of Wealth (WOW) event. This year's event is themed "Accelerating to Blue and Green" and is being held in a hybrid manner in Jakarta and five other cities online namely Bandung, Surabaya, Semarang, Medan and Makassar.
World of Wealth 2023 is dedicated to Priority & Priority Private Standard Chartered customers in order to provide the latest references and information to broaden customers' insights in making investment decisions, managing wealth, and directing company policies for customers' companies.
Also attending to give the keynote speech at this event were the Coordinating Minister for the Economy of the Republic of Indonesia Airlangga Hartarto and Deputy Minister of Finance of the Republic of Indonesia Suahasil Nazara.
The importance of public awareness in investing in sustainability aspects was one of the factors in choosing the theme "Accelerating to Blue and Green".
Also Read: This afternoon the Government Will Announce Electric Vehicle Incentives
If there are already many members of the public who are now more sensitive to the importance of the green economy, Standard Chartered also intends to introduce more aspects of the blue economy, which has particular potential in Indonesia, where 65 percent of the country's total area is ocean.
The benefits of developing a blue economy are the preservation of marine biodiversity and marine and coastal ecosystems, as well as sustainable livelihoods, especially for coastal communities.
Furthermore, customers also get valuable insights from Standard Chartered economists, renowned independent political analysts, as well as representatives of various top investment managers and top business people.
They shared their views on projected developments in the economic and political fields, development trends for green and blue investment, as well as what business and investment opportunities are attractive this year.
"We are very pleased to be hosting the 19th World of Wealth event again, as this opportunity allows us to further deepen our relationships with our clients. Through this event, we hope to convey information about the latest market and business trends that will help our clients navigate uncertain times," said Jeffrey Tan, Head of Consumer, Private and Business Banking, Standard Chartered Indonesia.
Also Read: Hadi Mulyadi Calls Business and Investment Opportunities Wide Open because of IKN Nusantara
In his remarks, the Indonesian Coordinating Minister for the Economy Airlangga Hartarto said that the collaboration and synergy of all parties is very important in dealing with various risks and in achieving the 5.3% economic growth target in 2023.
"Especially because we see that there is still room to encourage consumption and investment originating from household (upper middle) and corporate savings, which increased significantly during the pandemic but have not been optimized again for expansion and spending after the termination of the current PPKM. The investment target for planting capital to achieve the target of Rp. 1400 trillion in 2023 and Rp. 1650 trillion in 2024," he explained.
In the medium to long term, continued Airlangga, the government will continue to push for transformative economic policies. These policies include natural resource downstream policies, energy transition, human resource development, and infrastructure development, including the National Capital City (IKN).
Meanwhile, Deputy Minister of Finance of the Republic of Indonesia Suahasil Nazara, in his remarks explained, entering the first two months of 2023, his party will continue to maintain economic conditions from the state budget side and encourage the acceleration of economic activity throughout Indonesia.
"This year will be a momentum for recovery with an economic growth target of above 5% and related to inflation, even though it is now 5.5% but in time it will decrease to 3.6%. This is an economic combination that will strengthen Indonesia's resilience in the midst of challenging global conditions," said Suahasil Nazara.
In order to encourage economic recovery, continued Suahasil, Indonesia needs to encourage new economic growth potential.
"As an archipelagic country with vast forests and ocean areas, Indonesia has the potential to protect the world from global climate change. To contribute to tackling climate change, Indonesia needs funds of around 4,002.44 trillion within 10 years to meet the NDC target of reducing emissions by 29%. This must be shared, contributions from all parties, both the Government, the private sector, the community and from the whole economy," added Suahasil Nazara
Apart from discussing the blue and green economy, one of the topics discussed in this event is legacy planning as part of investment activities.
Referring to the 2022 Wealth Expectancy Report, as many as 65% of investors are more active in managing their wealth and changing their investment strategy, given the current economic challenges.
This report is the result of a survey of more than 14,000 respondents (including around 1,500 investors from Indonesia) in 14 growth markets across Asia, Africa and the Middle East. In Indonesia, 93% of respondents said they had set new investment goals in the last 18 months, and only 7% said they had not done so.
The Wealth Expectancy Report also re-emphasizes the importance of investing in sustainable aspects (sustainable investment). About half of investors surveyed hold some form of ESG investment, with 52 percent expecting to increase their sustainable investment in 2023.
It is becoming increasingly clear that people want to make an impact on the sustainability issues that matter most to them. In Indonesia, this figure is even higher, where 61% of people surveyed expect to invest more in ESG aspects by 2023.
"Standard Chartered continues to strive to consistently offer a holistic, lifestyle-oriented and customer-centric financial product line, which allows Standard Chartered to be increasingly assimilated into the lives of our customers as a trusted partner in helping them achieve their life goals. And in line with the commitment and our sustainability aspirations at a global level, Standard Chartered now also offers a wide selection of sustainable products in our portfolio.All Standard Chartered products and services can be accessed by our clients through our branch offices in 6 major cities in Indonesia, supported by relationship managers (RM) we are experienced and certified. In addition, our clients can also continue to enjoy the convenience of investment transactions through Online Mutual Funds and Retail Bonds Online services via the SCmobile application," said Meru Arumdalu, Head of Wealth Management, Standard Chartered Indonesia.
With global economic growth expected to slow down, this year Standard Chartered will implement and recommend investors to build a safe foundation or SAFE:
Secure your yield: Current yields are one of the big opportunities in 2023. Focus should be on overweight bonds – such as quality government and/or corporate bonds – as opposed to equities and cash. Allocate to long-term value (Allocating investment to long-term value): The focus on yield levels must be balanced with exposure to long-term value, which is seen in Asian (excluding Japan) equity and bond markets. In the Asian Region outside of Japan, investment can be aimed at Chinese equities which are overweight given their cheap valuations and positive catalysts. Another interesting asset class is the Asian bond USD. Fortify against further surprises: The possibility of a recession in the United States means investors should be prepared for unfavorable surprises, and high-quality government bonds can be one such mitigation. Insurance, cash and gold are also the guardians of major portfolios. Expand beyond the traditional approach: Assuming that the abnormal increase in the correlation between bonds and stocks is not sustained until the end of 2023, the demand for assets that are relatively uncorrelated is likely to continue. Alternative strategies, such as alternative liquid strategies and private asset classes, can help.