PSM Makassar and Persikabo 1973 Coach Complaints about Referee Leadership
Suara.com – PSM Makassar coach Bernardo Tavares and Persikabo 1973 formation manager Aidil Shari compactly complained about the leadership of referee Sance Lawita when the two teams met in Week 29 of BRI League 1 2022/2023, Thursday (9/3/2023). Both parties feel equally disadvantaged.
As for the match, PSM Makassar won with a narrow score of 1-0. Juku Eja's only goal in the match was scored by Ramadhan Sananta in the final minutes of the match via a penalty.
Bernardo Tavares felt his team should have received a penalty in the 12th minute. Apart from that, he said Persikabo players should get cards at several moments.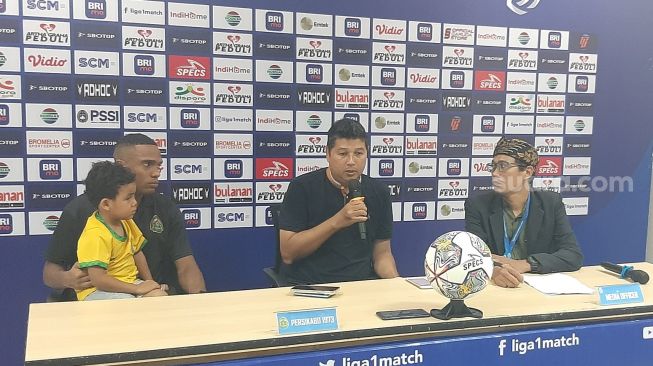 Persikabo 1973 coach Aidil Sharin during a press conference session after the match against PSM Makassar (Suara.com/Adie Prasetyo Nugraha).
"In the 12th minute, we should have received a penalty and there was a moment when Yakob (Sayuri) pulled Persikabo's shirt, a yellow card and the referee's decision was correct. But before Kenzo (Nambu) was also withdrawn, I don't know why the rules were different," Bernardo said after match.
Also Read: Asnawi Mangku Alam Appears After PSM Is One Step More Champion, Far Leaves Persib Bandung and Persija Jakarta
"In my opinion it's a penalty and I'm also confused only in Indonesia maybe an incident like that isn't a penalty, I said that many wrong decisions were made by the referee, at the start of the match Kenzo was withdrawn and if this was done by the opposing players it was as if nothing had happened , but when PSM did it, we got a card," he said.
Aidil Sharin complained about the same thing. The formation manager from Singapore said that his team should have been awarded a penalty in the first half, but referee Sance had a different decision.
"We have tried, but yes, football is a matter of the referee, I saw in the video, in the first half, we should have received a penalty," explained the Singaporean coach.
"In the second half, again I saw in the video (match), there was no touch of the ball against the hands, I don't know why my players were penalized," he concluded.
Also Read: Silenced by PSM Makassar, Aidil Sharin Call Persikabo 1973 Similar to Persib Bandung