NATO: Bakhmut City May Fall into Russian Hands in Days
Secretary General of the North Atlantic Treaty Organization (NATO) Jens Stoltenberg on Wednesday (8/3) predicted the city of Bakhmut in eastern Ukraine would fall into Russian hands in just a matter of days. The prediction was given after months of fierce fighting haunted the city.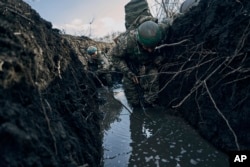 Ukrainian soldiers are seen hiding in a trench amid Russian attacks near Bakhmut, Donetsk region, Ukraine, Sunday, March 5, 2023. (Photo: AP)
"We cannot rule out that Bakhmut will eventually fall in the coming days," he said, but added that "this does not necessarily reflect a turning point in the war."
Ukrainian President Volodymyr Zelenskyy warned in an interview with CNN what could happen if Bakhmut fell into the hands of Russian troops.
Prigozhin estimates between 12,000 and 20,000 Ukrainian troops are still defending the city.
Ukrainian Soldiers fire 105mm Howitzers at Russian positions, near the town of Bakhmut, on March 4, 2023. (Photo: AFP/Aris Messinis)
Meanwhile Russia fired a massive barrage of missiles targeting energy infrastructure across Ukraine on Thursday (9/3) morning. Officials said the largest-scale attack in three weeks hit residential buildings and killed at least five people, as reported by the Associated Press.
Lviv governor Maksym Kozytskyi said four people on his territory were killed after the missile hit a residential area. Three buildings were engulfed in flames after the onslaught. Rescue workers were combing through the rubble for more victims, he said.
Meanwhile Governor Serhii Lysak said a fifth person was killed and two others injured in several attacks in the Dnipropetrovsk region targeting the city's energy infrastructure and industrial facilities.
Air raid sirens blared throughout the night across Ukraine, including the capital Kyiv, where explosions occurred in two areas west of the city.
The city government said Kyiv was hit with exploding missiles and drones and many were intercepted. But the attack succeeded in hitting Ukraine's energy infrastructure. [ah/rs]