Mother's Story in South Korea Called Her Child's School Teacher Because of Hijab, Turns Out…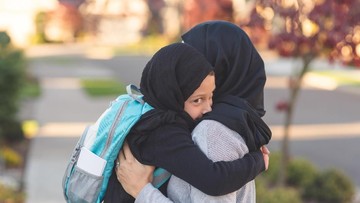 Newsdelivers.com –
Living abroad with family always holds valuable stories. The story of a mother raising her child in Korea warms the hearts of netizens.
Dayu Wiyati Purnaningtyas is an Indonesian citizen (WNI) who lives in South Korea with her family. He is married and has a daughter.
Even though she is still a child, Dayu's daughter has practiced wearing the headscarf. However, this was actually a unique experience when he was in childcare.
The incident started when Dayu first took her daughter to an orinijib or daycare in Ginseng Country. HaiBunda has contacted Dayu and is allowed to share her story.
"I have trained my child to wear the headscarf since childhood, when leaving the house, including going to orinijib (daycare)," she wrote on her Instagram account @dayupurnaningtyas.
In a country with a minority Muslim population, this daycare is the first time that a child wears a headscarf.
Several teachers were confused when Dayu's daughter wanted to take off her headscarf while participating in an activity there. They also called Dayu to ask questions and ask for permission.
"Because she is the first Muslim woman in Orinijib, her teachers do not yet have standards about the hijab. One day, when she first entered Orinijib, her teacher called and reported. She said, 'Is this child willing to take off the headscarf or not?'," she said.
"Salute, they asked first and confirmed whether or not it was permissible and I answered that the children were still in the training stage," he added.
Dayu didn't mind her daughter wanting to take off her headscarf at the daycare. However, her child is used to wearing the headscarf when outside the room.
"So if the child wants to leave, it doesn't matter. But I still make it the default to leave and return wearing a headscarf," he explained.
Dayu explained that she and her husband had long decided to train their daughter to wear the headscarf. However, they never forced the princess' will. Especially with their condition as diaspora in Muslim minority countries.
"Getting used to wearing the hijab since childhood was a choice for my husband and I, still taking into account the rights of children who are still not subject to the obligatory law, so there is no need to force it," said Dayu.
"Especially when living in a Muslim minority country, never mind the challenge will be more exciting," he continued.
See also how Dayu taught her daughter to wear the headscarf from an early age, on the next page.
For mothers who want to share about parenting and can get lots of giveaways, let's join the HaiBunda Squad community. Register click HERE. Free!
Also watch the following videos on how to build self-esteem in children:
[Gambas:Video Haibunda]