Arsan Makarin Ready to Work Hard to Strengthen the Indonesian National Team at the 2023 SEA Games
Suara.com – Persib Bandung midfielder Arsan Makarin is ready to work hard at the Indonesian National Team training camp ahead of the 2023 SEA Games.
As quoted by ANTARA from the club's official website, Thursday (9/3/2023), Arsan is known to have received a call to attend the U-22 Indonesian national team training camp for the 2023 SEA Games from 9 to 23 March 2023.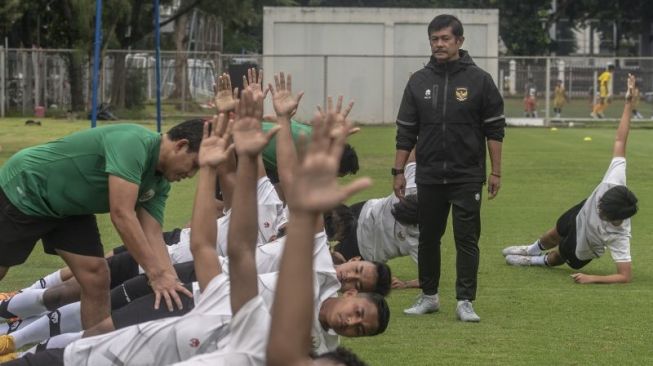 Soccer Coach Indra Sjafri led the training camp for the U-22 Indonesian National Team in Field A, Gelora Bung Karno area, Jakarta, Thursday (2/3/2023). BETWEEN PHOTOS/Muhammad Adimaja/hp. (BETWEEN PHOTOS/MUHAMMAD ADIMAJA)
Arsan said he was determined to maximize the opportunity to take part in the training camp program with the Indonesian U-22 national team under Indra Sjafri.
"Alhamdulillah, I am definitely happy with this opportunity. I hope you get the best results," said Arsan.
Read also: Persib Bandung 'suffers' defeat at home to opponent Persik Kediri
The 22-year-old said he was very ambitious about joining the national team and was very grateful to the people who have supported him so far.
"Of course this is also thanks to the people who support and pray for me, especially my parents and family, coaches and friends on the team," said Arsan.
Arsan Makarin has been included in Persib Bandung's main team since the beginning of this season after previously defending satellite team Bandung United which competed in League 3.
The player born in Sumedang made his debut with Persib Bandung in the Indonesian League 1 this season when he faced Bhayangkara FC in the first week.
In the Indonesian League 1 this season, the player whose full name is Arsan Makarin Al Haq has played 5 matches with 172 minutes played.
Also Read: Luis Milla Ensures Persib Self-Introspection After Losing to Persik Kediri