3 Palestinian Militants Killed in Israeli Military Raids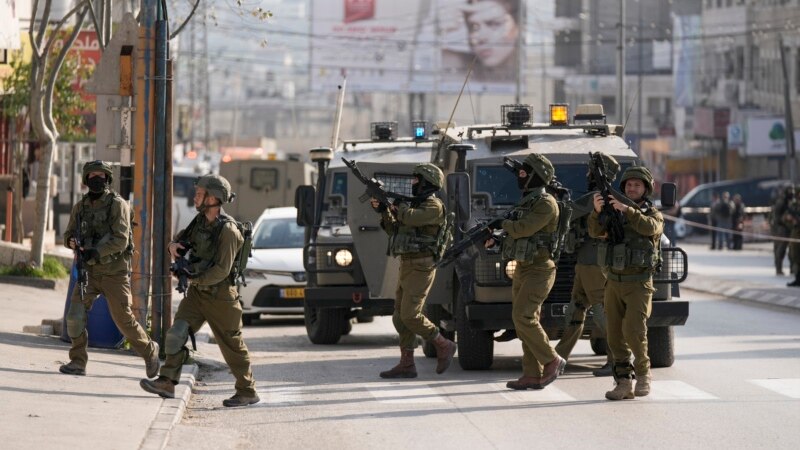 At least three Palestinian militants were killed in a gun battle with Israeli troops Thursday, the latest death in a wave of Israeli raids in the occupied West Bank.
Israeli security forces said they raided the village of Jaba in the northern West Bank to arrest several suspects wanted for an attack on Israeli soldiers in the area. The suspects opened fire on Israeli troops, who then fired back and killed three people, all affiliated with the militant group Palestinian Islamic Jihad, police said.
The Palestinian Health Ministry identified the men as Sufyan Fakhoury, 26, Nayef Malaisha, 25 and Ahmed Fashafsha, 22, and said they were shot dead by Israeli forces during a military operation. The ministry also said a fourth person was admitted to the hospital with a gunshot wound to the head but was in stable condition.
Israeli police released photos of assault rifles, pistols, ammunition and other items they said soldiers seized in Jaba, just south of the flashpoint city of Jenin. The militant group said the men shot Israeli troops from their car. Locals were seen congregating and inspecting the wrecked sedan, whose seats were stained with blood.
The militant group Jaba, which consists of young Palestinians who oppose the Israeli occupation, said they opened fire and threw explosives at Israeli troops. The group claimed that Israeli forces killed its commander, Fakhoury, a former Israeli prisoner, during the raid. They also claim gunmen shot down an Israeli drone during clashes with soldiers. The Israeli military confirmed a drone had crashed and said it was investigating the incident.
Jaba's armed group includes gunmen from various factions, including the Palestinian Islamic Jihad and the armed offshoot of the nationalist Fatah party. Militants in the village say that Islamic Jihad supports the group and provides weapons to its members.
The group is part of a larger trend of emerging armed groups in the West Bank which have carried out attacks on Israeli soldiers and civilians and opened fire during Israeli troop raids on their towns. The groups are reported to be opposing the increasingly unpopular Palestinian Authority. [ab/uh]