11 Foods for Fast Contractions, Smooth Pregnancy Process
Newsdelivers.com –
Going through the contraction process just before delivery is a period that is arguably uncomfortable for Mother. Therefore, it's only natural that you want this process to pass quickly and look for ways to speed up contractions.
One of the things that is often recommended is to consume various types of food or drinks that can help fast contractions and so that the pregnancy process goes smoothly.
Food for fast contractions
Here's a list of some foods for fast contractions, as reported by Healthline and Parenting First Cry:
1. Pineapple
Nothing is as sweet as fresh pineapple. And if you enjoy the taste and nutritional benefits, then enjoy. Pineapple is very high in vitamin C and high in other nutrients such as manganese.
In addition, an enzyme present in pineapples, called bromelain, is believed to soften your cervix and trigger contractions, but no studies specifically prove this.
2. Dates
Dates have many properties and benefits. Among other qualities, dates are also high in fiber and antioxidants. Research shows that dates might help induce or speed up contractions
Although it was not a randomized clinical trial, a 2011 prospective study found that women who ate dates in the last 4 weeks before labor were less likely to need to be induced.
Other studies, including a 2013 randomized clinical trial and another published in 2017, suggest that eating dates may also reduce the amount of time spent in labor or reduce the need for augmentations, such as using oxytocin to speed labor.
3. Spicy food
Indian food that smells spicy, Italian food, or Thai food with a spicy taste is one way to speed up contractions.
Surveys in 2011 studies show that many people believe spicy food will cause contractions. For all those who swear that a delicious curry dish gets them into labor, Mom will find someone who believes the paprika-laden dish is for them.
But research from 2014 suggests you should consider talking to your doctor before ordering a super-spicy dish with this goal in mind.
4. Eggplant
Does eggplant seem like an unlikely candidate for childbirth? Not so according to dozens of pregnant women who ate eggplant parmesan at a restaurant in Georgia called Scalini's.
Again, no official research but lots of adorable baby photos in this place. And others swear that the eggplant Parmesan dish in general has put them in labor.
5. Raspberry leaf tea
Sipping on a cup of raspberry leaf tea sounds like a great way to start labor. However, there is not enough evidence to show that raspberry leaf tea or raspberry leaf tablets actually work.
One 2009 animal study even questioned whether it was completely safe to use raspberry leaf during pregnancy. More research is needed, so you may want to talk to your doctor before brewing.
6. Akar licorice
Licorice root, which has a long history as an herbal remedy for many conditions, is sometimes touted as a contraction trigger — but it's one you should avoid.
The National Center for Complementary and Integrative Medicine warns that heavy consumption can lead to premature labor and potential health problems for your baby. So it's best avoided.
7. Green papaya
Unripe green papaya is rich in Papin enzyme. Papaya leaves contain latex, which functions as prostaglandins and oxytocin and can help start contractions. The more ripe papaya, the more papin is lost, therefore eating ripe papaya will not have any effect on speeding up contractions.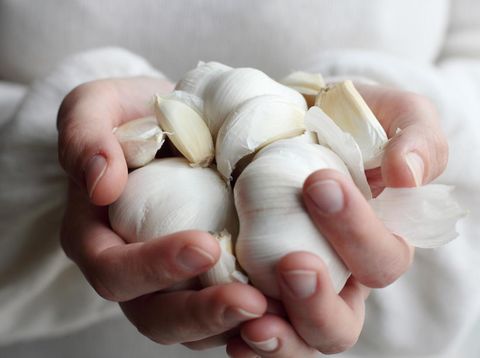 Garlic illustration/ Photo: Getty Images/iStockphoto/MariaDubova
8. Garlic
Garlic stimulates the intestines, helping to empty them which can help speed up contractions. It is one of the most popular foods to induce labour.
9. Castor oil
Castor oil extracted directly from plant seeds is one of the foods that accelerate labor. Mothers in India have used castor oil to induce labor for centuries.
Although consumption of castor oil is safe, it can cause vomiting and diarrhea in rare cases, which can be very uncomfortable during labour.
10. Cumin tea
Cumin is a common aid in digestive tract problems. It provides relief from bloating and helps start the menstrual cycle. It can also be used to speed up contractions. Add a little sugar or honey to make it taste better if you don't like the taste.
11. Evening primrose oil
Evening primrose oil is something that most midwives would recommend to pregnant women looking to induce labor. The body converts substances in the oil into prostaglandins. It helps in softening the cervix, resulting in the induced contractions.
Apart from food, you also have other options. Talk to any parent group and ask them how to start labor, and you will likely find several other recommendations including:
Acupuncture or acupressure nipple stimulation Of course, waiting, and seeing a doctor is best.
Bottom line: No one stays pregnant forever. But getting to a point where you feel ready to move on and have your little one is normal.
If your doctor agrees that it's OK to eat certain foods when you reach full age just to see if they speed up contractions, you can eat them.
For mothers who want to share about parenting and can get lots of giveaways, let's join the HaiBunda Squad community. Register click HERE. Free!
Watch the video about 5 signs of ruptured membranes:
[Gambas:Video Haibunda]
(about/about)