UN: Afghanistan, the Most Repressive Country in the World for Women
Since being taken over by the Taliban, Afghanistan has become the most repressive country in the world for women and girls, said the United Nations (UN), Wednesday (8/3).
In a statement released on International Women's Day, the United Nations said that Afghanistan's new rulers had shown a "singular focus on implementing the rules that keep the vast majority of women and girls effectively trapped in their homes."
The United Nations basically says that women and girls there have lost many of their basic rights
Despite initial promises of a more moderate stance, the Taliban have imposed a crackdown since seizing power in August 2021 as US and NATO troops were in the final weeks of their withdrawal from Afghanistan after two decades of war.
They have banned the education of girls above sixth grade and women in public spaces such as parks and gyms. Women are also barred from working in national and international non-governmental organizations and ordered to cover their bodies from head to toe.
"Afghanistan under the Taliban has become the most repressive country in the world regarding women's rights," said Roza Otunbayeva, special representative of the UN secretary-general and head of the UN mission in Afghanistan.
"It is heartbreaking to witness their methodical, deliberate and systematic efforts to push Afghan women and girls out of the public sphere," he added.
The restrictions, especially the ban on NGO education and work, have drawn strong international criticism. But the Taliban showed no sign of backing down, claiming the ban was a temporary suspension allegedly because women were not wearing the Islamic headscarf, or headscarves, properly and because gender segregation rules were not being followed.
Regarding the ban on university education for women, the Taliban government said that some of the subjects taught were not in line with Afghan and Islamic values.
"Keeping half of a country's population in their homes is one of the world's greatest humanitarian and economic crises. This is a colossal self-defeating act nationally," said Otunbayeva.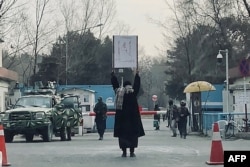 Marwa staged a solo protest outside Kabul University, against the ban on studying for women, in front of members of the Taliban standing guard in Kabul, December 25, 2022 (AFP)
"This will not only plunge women and girls, but all Afghans, in poverty and aid dependence for generations to come," he said. "This will further isolate Afghanistan from its own people and from the rest of the world."
The UN mission to Afghanistan also said it had recorded a near constant stream of discriminatory decrees and acts against women since the Taliban takeover.
The UN Security Council is scheduled to meet later Wednesday with Otunbayeva and women representatives from Afghan civil society groups.
According to a UN statement, 11.6 million Afghan women and girls are in need of humanitarian assistance. However, the Taliban have increasingly disrupted international aid efforts through banning women from working for NGOs. [ab/uh]