Senior Actor Ikranagara Dies, This is a Career Journey from the Film Laskar Pelangi & Sang Kiai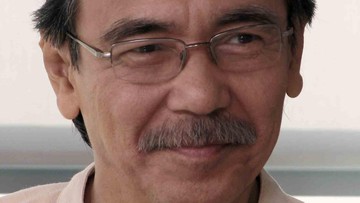 Newsdelivers.com –
Sad news came from the Indonesian film industry. Senior actor Ikranagara passed away on Monday, March 6, 2023.
The actor, who is also known as a writer and painter, breathed his last at the age of 79, Mother. He died in Bali.
The sad news came from his son, Innosanto Nagara. He uploaded news about his father's return via his personal Facebook page.
"Sad news. Innalillahi Wa Inna Ilaihi Roji'un. Has passed away to Rahmatullah, Husband, Father, our beloved Datuk: H. Ikranagara at the age of 79 in Bali," wrote Innosanto Nagara as quoted by detikcom, Tuesday (7/3/2023) .
In his social media uploads, Innosanto Nagara asks for prayers for everyone who knows the sad news about his father.
"I ask for his sincerity to pray for the deceased so that all his sins are forgiven and all his acts of worship are accepted," he said.
The Indonesian Film Festival also conveyed sad news about Ikranagara through their official Instagram account.
"The Indonesian Film Festival expresses its deepest condolences for the passing of our friends and family. Farewell, Ikranagara. Thank you for your love and dedication to the world of Indonesian cinema," they wrote on their Instagram account @festivalfilmid.
Having passed away forever, here is Ikranagara's career journey as a senior Indonesian actor:
Debuted in the 70's
Ikranagara is an actor born on September 19, 1943 who has Balinese, Javanese, Madurese and Bugis blood. He was born in West Loloan, Negara, Jembrana, during the Japanese occupation.
Before becoming an actor, he had an interest in literature and drama. Ikranagara started his career in acting through the film Breathing in Mud in 1970, Bunda.
Two years later, Ikranagara played on the theater stage. He participated in a show titled Mask in 1972 ago. Since then, Ikranagara has regularly starred in theater performances.
Some of the theatrical works he starred in include Topeng II (1975), The Narrators (1975), Gusti (1976), Rimba Tiwikrama (1978), Shadows Throughout the City (1981), The Accused (1982), and many others.
His last role on the theater stage was in the show How Dare to Wait for Godot in 1993. He was noted to have starred in more than 15 show titles.
Apart from theater, Ikranagara also continues to expand his career in film. Read on the next page.
For mothers who want to share about parenting and can get lots of giveaways, let's join the HaiBunda Squad community. Register click HERE. Free!