PPP Maneuvers Silaturami to PDIP and PBB, Agree on a Closed Proportional System?
Suara.com – The United Development Party (PPP) has recently begun to maneuver outside the United Indonesia Coalition (KIB). Even so, the steps taken by PPP are said to be still in the corridor of inviting political parties outside the coalition to join KIB.
PPP has approached two political parties, namely the Indonesian Democratic Party of Struggle (PDIP) and the Crescent Star Party (PBB).
The opening of communication between PPP and PDIP was marked by the visit of PPP Advisory Council Chairman Romahurmuziy to meet PDIP Secretary General Hasto Kristiyanto some time ago.
Romi even uploaded a photo of the meeting on his personal Instagram account. The meeting was later confirmed by Hasto.
Also Read: There is no intention of postponing the election, the Prima Party admits that it is ready to withdraw the lawsuit as long as the KPU does this
"We see each other with PPP, moreover we are neighbours. Just knock on the neighbor's door, we will meet," said Hasto in his statement, Monday (6/3/2023).
Hasto revealed that the meeting was not only held with PPP, also with other parties such as Golkar, PAN which are members of the United Indonesia Coalition (KIB).
Apart from that, he also admitted that he often met with Gerindra and PKB in the Great Indonesia Awakening Coalition (KIR).
"We also often have meetings with Golkar, Gerindra, PAN, PKB so there are no problems," he said.
Meanwhile, PPP DPP chairman Achmad Baidowi revealed that the meeting between Rommy and Hasto was said to be a personal initiative. Awiek, his nickname, even stated that the meeting was only for political nostalgia.
Also Read: Ensure that Jokowi does not intervene in the decision of the Central Jakarta District Court on Postponing the Election, Moeldoko: There is no relationship with the government!
"Yes, no, Mas Rommy took the initiative," he said when contacted, Tuesday (7/3/2023).
Awiek said, if during the meeting there was discussion about politics, it was a natural thing. However, this did not immediately become a political decision.
"Yes, if later there are political discussions in it, I think it's a natural thing, but it's not a decision-making;
Meanwhile, PPP plans to hold a friendly meeting with the PBB. This was later confirmed by the Plt Ketum PPP M Mardiono.
Political Gathering
He revealed, if this was done only to stay in touch, not to talk about coalitions or even to support elections with a closed proportional system.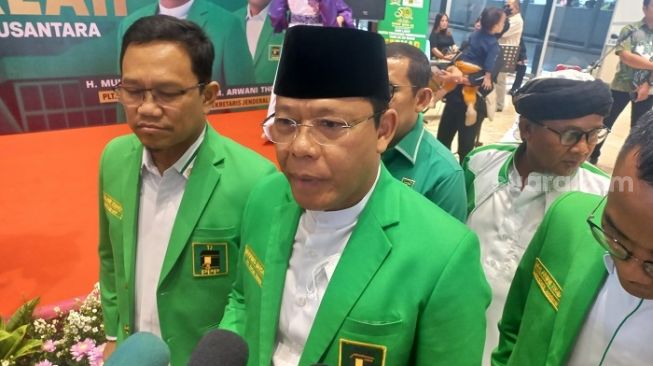 Acting Chairman of the DPP PPP M Mardiono. (Suara.com/Bagaskara)
"Pak Yusril was an old friend of mine since 88, 90, I was friends with him. Well, firstly, old friends. Second, of course, our fellow political parties stay in touch. Of course, it's where we meet that we discuss politics," he said.
When it was linked to the possibility of a meeting with the United Nations discussing a closed proportional electoral system, Mardiono preferred neither to confirm nor to reject the possibility.
"Yes, if it is open or closed it is the authority of the Constitutional Court. Because those who are handling the issue, the judicial review regarding open or closed is indeed the authority of the Constitutional Court. If PPP as a party participating in the election wants to be open or closed, be prepared," he said.
He only emphasized that the party he currently leads already has long experience in political contestation, either with a closed or open proportional system.
"PPP already has experience in taking part in elections in a closed proportional manner. They also have experience. They have already implemented it. Open proportional ones have also implemented it. In principle, PPP is ready," he said.
PPP itself plans to meet with the United Nations on March 13 at the PPP DPP Office. Next, they will continue to meet with PDIP on March 15, 2023.
It should be noted that PDIP and PBB are parties that insist that elections be held using a closed proportional system in the 2024 elections.
UN General Chair Yusril Ihza Mahendra conveyed this at the UN National Coordination Meeting (Rakornas) and Party Council Deliberation (MDP) at the eL Hotel Royal, Kelapa Gading, North Jakarta, Wednesday (11/1/2023).
"The United Nations actually wants elections with a closed system. It's only the PDIP and the United Nations that want such a system," he said.
This constitutional law expert argued that elections with an open proportional system would make Indonesian democracy shift, namely that the sovereign in democracy would no longer be the people, but capital.
The power of capital, according to him, makes the regeneration process useless because only those who have a lot of money or capital will become representatives of the people.
"Suddenly because they have money, because they are popular, they are recruited as candidates and eventually become members of the DPR, which is far from what we all hoped for," said Yusril.
PBB's attitude is in line with PDIP which supports the discourse of a closed proportional electoral system.
"In the view of the PDI Perjuangan, in accordance with the decision of the fifth congress, a closed proportional electoral system in accordance with constitutional orders with legislative election participants are political parties and this will encourage the process of cadre formation of political parties," said PDI Perjuangan Secretary General Hasto Kristiyanto in a virtual press conference, Friday (30/12/2022).