Malaysian women experience culture shock in Indonesia, confused by public transportation and parking attendants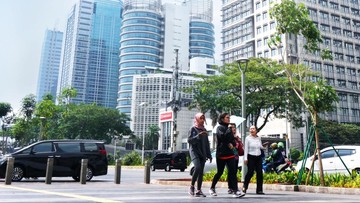 Newsdelivers.com –
Visiting other countries often makes people experience culture shock. Even in countries that are still of the same family, cultural differences can still trigger culture shock.
Culture shock occurs because of differences in culture and habits of the people in the country, with the country of origin. This was also experienced by a Malaysian woman while living in Indonesia, Mother.
This story was shared by Asma', a businessman from Malaysia. He told his colleague, Fatma Saleha. Asma' and Fatma run social media accounts to share about Indonesian and Malaysian culture. HaiBunda has contacted these two friends and are allowed to share their stories.
"Now I will talk about what is common in Indonesia, but not usual in Malaysia," said Asma' in the video, quoted from the SUKAYU Channel YouTube channel.
In her video, Asma' explains four things that are considered unusual in her home country, Malaysia. One of the things that steals his attention the most when he comes to Indonesia is the public transportation or angkot that are mushrooming on the streets.
"The first is angkot. There are no angkots in Malaysia. We use buses, online motorcycle taxis, and the LRT or monorail. There are lots of these angkots in Indonesia and there are various colors. Maybe that determines the location, right?" Asma asked Fatma.
"That's right, that's the name of the route. Suppose the green color goes from point A to point B, then the blue one goes from B to C, that's how it is. Different colors, different routes," Fatma replied.
Asma' said public transportation in Malaysia usually has a number to indicate the route and final destination. Fatma then explained that in Indonesia, angkots are also grouped into numbers that mark their routes.
"Besides that, we also have an express bus, it's like an inter-city bus maybe here," said Asma'.
Apart from being surprised to see the number of angkots on the road, Asma"s attention was also focused on the glass bottles filled with gasoline which are often displayed on the shelves of mini gas stations.
"Just like on the road, suddenly in front of a house I see someone selling bottles, it looks like there's gasoline inside. What's that?" Asma asked.
Fatma then explained that the bottles were gasoline. Indonesian people, especially in remote villages, rarely have gas stations. The mini version of the gas station is made to make it easier for those who want to refuel.
"That's called retail gasoline. So that person bought gasoline at a gas station using a large conductor, then they sold 1 liter retail," said Fatma.
"Usually it's in glass bottles or mineral water, but mostly in glass bottles. So if you're stuck in that area there aren't gas stations, there aren't usually any in the village, so they'll look for this retail gasoline," he explained.
During her visit to Indonesia, Asma' was also troubled by a number of things that felt foreign. Read on the page after this, Mother.
For mothers who want to share about parenting and can get lots of giveaways, let's join the HaiBunda Squad community. Register click HERE. Free!
Also watch the video about the strange habits of Indonesians in the eyes of Belgian Caucasians:
[Gambas:Video Haibunda]