Making Proud, Nathania, a student at SMAN Surabaya, won first place in the World Science Competition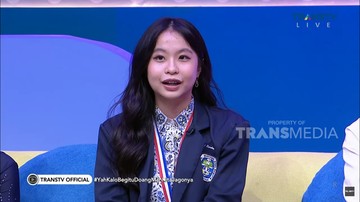 Newsdelivers.com –
There is another proud news from the sons and daughters of the Motherland, Mother. This time, Nathania, a student at SMAN 5 Surabaya, made the name Indonesia fragrant again.
Nathania recently won first prize in an international science competition, the Taiwan International Science Fair (TIF). In the event that took place on 11-14 February 2023, he was the only Indonesian student who entered this competition six years ago, you know.
He was also present at Morning Morning Ambyar, mother. On this occasion, Nathania shared several stories about the competition she participated in.
As it turned out, this competition required Nathania to show the results of the research she had done. "Certainly we have research, because this is the Taiwan International Science Fair," he said, quoted from the TRANS TV Official YouTube channel.
"So we have to show case research that we have. It depends on the field each one is participating in, for me in the field of medicine and health," he said.
For the research that Nathania is showing off herself, which is related to dangerous bacteria, Mother. He said, this bacterium has become a world concern because it is deadly.
"So in this field, I researched antibiotic-resistant MRSA bacteria which has become a very big problem in the world and is the second deadly pathogen after E.coli. With resistance problems created and expensive and difficult handling, this bacteria is deadly," he said .
So, Nathania's focus is to find the antibacterial agent. He then explained that he wanted to take advantage of Indonesia's abundant natural resources.
The resource he chose was moringa leaves. He said, this leaf is able to inhibit the establishment until it kills the bacteria.
"I want to take something from Indonesia, namely Moringa leaves. Indonesia itself has a lot of natural resources that are important for us."
"In my research, I explored Moringa leaves as an MRSA antibacterial. Moringa leaves synthesized with silver nanoparticles can inhibit growth and kill these bacteria," he explained.
The research was carried out by Nathania alone for three months. During the research period, the school played a big role as it provided abundant support.
"The total is about three months anyway. I work alone, all of them," he said.
"The school is very supportive. It helps me spiritually, mentally, as well as permits when I leave class to go to the laboratory."
Check out the complete information on the following page, OK?
For mothers who want to share about parenting and can get lots of giveaways, let's join the HaiBunda Squad community. Register click HERE. Free!
Also see the 7 early characteristics of smart children in the following video:
[Gambas:Video Haibunda]