Jordanian Women Demonstrate in Support of Palestinian Women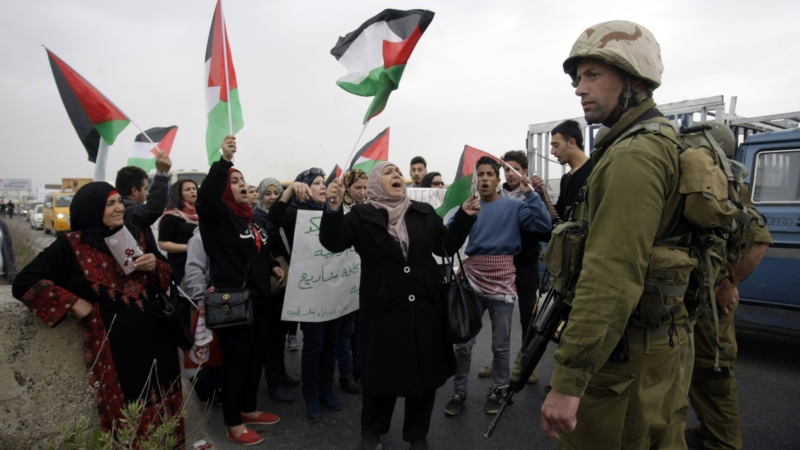 Amman, Jordan (AP) —
Jordanian women activists staged a rally outside the United Nations office in Amman on Wednesday (8/3) to show solidarity with Palestinian women facing hardships under the Israeli occupation in the West Bank.
The group, called the Jordanian Women's Union, carried Jordanian and Palestinian flags as well as banners supporting Palestinian women during the demonstration on International Women's Day.
"We hold the UN and the countries led by the US and UK accountable for all Israeli violations and practices of aggression against Palestinians, women in particular," said Nadia Shamroukh, head of the union.
Laila Naffaa, a protester and a member of Jordan's communist party, hopes their demonstration will "highlight the crimes committed against Palestinian women and the Palestinian people."
On Tuesday, Israeli forces raided a house in a refugee camp, sparking fighting that killed at least six Palestinians and injured more than two dozen others, Palestinian health officials said.
The military said that one of those killed in the Jenin refugee camp was the suspected shooter in the fatal shooting of a pair of Israeli brothers and sisters in the West Bank city of Hawara last week.
Tuesday's raid was the latest in a series of deadly arrest operations by the Israeli military in the northern West Bank, as violence escalated that had not seen in years.
The raids raised fears of further bloodshed as Israel tried to quell the growing uprising, which
led by young Palestinians, in the Israeli-occupied West Bank, who are increasingly taking up arms against Israel's open occupation which is now in its 56th year. [rd/lt]