Don't Spin Bun! This is an easy way to encourage the little one to fast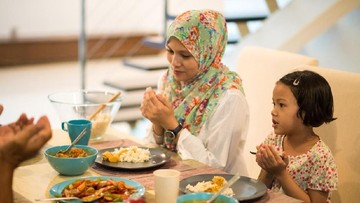 Newsdelivers.com –
Teaching your little one the habit of fasting can be difficult and easy. Especially if this Ramadan is the first time they experience fasting.
However, you don't need to bother. With the right approach, Mother can teach children to be strong in fasting and be able to carry out this service in a pleasant way without feeling forced.
According to various sources, here are 5 easy ways that you can try to encourage your little one to fast in the month of Ramadan later.
1. Make Sure Your Child Is Physically Ready
Young children who are not yet of puberty are not required to fast, but mothers can invite their little ones to fast from an early age so they get used to it. Nevertheless, make sure your little one is physically ready.
Every child is different, some are ready to fast from the age of 4 and some are just ready to fast at the age of 6. Therefore, Mother does not need to force it if it is felt that the Little One has not been able to withstand hunger and thirst for a long time.
2. Give Positive Encouragement
Positive encouragement can be a motivation and encouragement for children who are easily tired and distracted when doing something. You can make this happen by giving them praise for their efforts to wake up early in the morning, or by giving them a small reward in the form of their favorite food when breaking the fast.
This positive reinforcement can also help children mentally prepare for worship. This is done by introducing the virtues of Ramadan fasting to children so that they understand the benefits of this worship. Explain in simple ways that are easy to understand, for example with the help of story books/fairy tales.
3. Start slowly, no need to go full all day
Small steps can produce big things if they are practiced, including learning to fast. For your little one who is just going through fasting for the first time, you can start slowly according to their comfort and strength.
For example, fasting for 5 hours, moving up to half a day, up to a full day of fasting when they get used to it. In this slow way, Mother can also avoid the risk of child tantrums due to fatigue while fasting.
4. Record Progress and Prepare Rewards
In welcoming Ramadan, Mothers can invite your little ones to be creative in making colorful calendars that will help them record progress and achievements in fasting. Every time they complete their fast, their little ones can put stickers or stamps that will make them proud as if they had completed a certain mission.
This method can help children be motivated to worship happily without feeling heavy or forced. Mothers can also prepare gifts as a form of appreciation for the efforts of the Little One. No need for extravagant gifts, their favorite ice cream or chocolate treats can also be fun gifts for your little one!
5. Prepare a Nutritious Sahur & Iftar Menu
Equally important, during fasting Mother must also prepare a nutritious breakfast and sahur menu for children so that they have energy to go through the day. There are various ideas for healthy cooking recipes that you can cheat on the internet and social media so you don't have to worry about finding inspiration for healthy menus for your family.
During Ramadan, try to reduce your child's intake of salty and sweet foods as this can increase thirst and make it difficult for them to endure hunger during fasting. Instead, give food that is high in fiber and rich in protein because it can help your little one get full quickly during fasting.
In addition to nutritious food, it is also important for Mothers to meet their Little One's nutritional and hydration needs during fasting. One of them is by consuming mineral water with essential mineral content such as Le Minerale.
Le Minerale contains healthy essential minerals and is produced from high-quality spring water. It tastes fresher and lighter, so it can help children drink more at dawn or breaking the fast so they stay energized while fasting.
Not only that, the Le Minerale gallon is different from the others because it uses a clear gallon that is always new with an airtight tight lid. This keeps the essential minerals in it perfectly preserved in the hands of consumers.
The tight lid also allows you to ensure the cleanliness of the water in it, and prevents germs, viruses and bacteria from getting into the water you consume. Come on, choose mineral water with essential minerals with the best quality standards for families, like Le Minerale, which is clearly healthy, clearly clean.
(noun)