Cooperation between LaLiga and Carolina Marin will continue until the 2024 Olympics
Suara.com – LaLiga has extended the cooperation contract with their ambassador, Spanish badminton athlete Carolina Marin, until the 2024 Olympics.
According to LaLiga President Javier Tebas, in a virtual press conference, Wednesday (8/3/2023), this is a step by LaLiga as a sports organization to continue to be involved in providing developments in the field of sports through sponsorships, to promotions on its various platforms.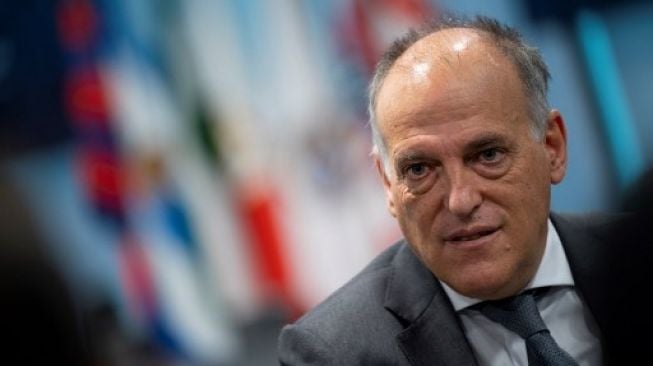 La Liga president Javier Tebas interviewed by AFP in Madrid on October 21, 2020. [AFP]
"With this agreement LaLiga demonstrates its strong commitment to the visibility and promotion of sports and other athletes during promotional events and through LaLiga companies," Tebas said as published by ANTARA.
"Carolina Marin is one of Spain's greatest sportswomen, she has a great influence in strategic countries for LaLiga and we are proud to continue to combine our visions to achieve a common goal," he added.
Also Read: Not Yet Raising the White Flag, Real Madrid Still Confident Can Chase the 9-Point Gap from Barcelona
Furthermore, Tebas said that the contract with Marin, which began in 2017, had a major impact on the expansion of the LaLiga brand or name throughout the world.
He also highlighted that in the 2021/22 season, LaLiga donated more than 120 million euros to other organizations for the development of non-professional football and other sports.
Of this, the Royal Spanish Football Federation (RFEF) received 52 per cent (63 million euros); The National Sports Council (CSD) received 39 percent (47.22 million euros); and Unions received 9 percent (11 million euros). This figure is an increase of 432 percent compared to the 2014/15 season.
"It is an honor to renew the agreement with LaLiga since 2017, in which I used my influence in several countries, especially in Asia, to further expand the name of LaLiga," said Marin.
"It is very important for me to have the support of an organization like this, which is well-known around the world and helps me in my daily activities," he added.
Also Read: Spanish League Results: 10 Barcelona Players Defeat Valencia 1-0