Celebrate International Women's Day with Selphie Bong at B-Speak Up!
With the theme #InternationalWomensDay "How are Indonesian Women?", Instagram Live B-Speak Up! invites beauties to celebrate International Women's Day which falls every March 8. Inviting digital creator Selphie Bong, IG Live B-Speak Up! This time, of course, is very interesting and you shouldn't miss it.
Those of you who like to play TikTok or who already follow Selphie Bong on Instagram must be very familiar with Selphie's posts which always make you feel more enthusiastic and more confident. How do you think this woman who is familiarly called Ms Bong views Indonesian women, have they achieved equality?
You will get the answer by watching Instagram Live B-Speak Up! on March 8, 2023, at 16.00 WIB. Accompanied by Beautynesia Editor Rini Apriliani who will act as host, Selphie will discuss International Women's Day and will also discuss how we as women can support each other.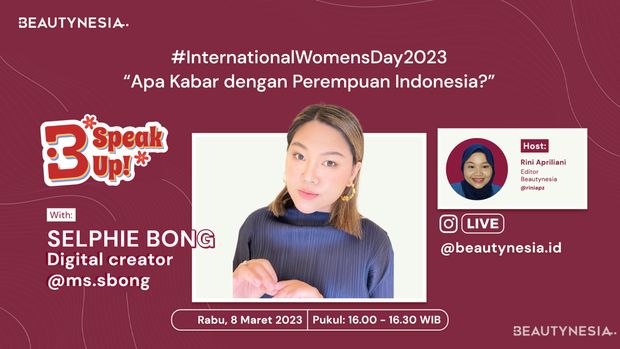 Celebrate International Women's Day with Selphie Bong at B-Speak Up!/ Photo: Beautynesia
As you may already know, this International Women's Day has the theme #EmbraceEquity. The theme was raised with the hope that everyone can jointly encourage the creation of a change. "From grassroots action to broad-scale momentum, we can all embrace equality," states the IWD website.
So, for beauties who also want to celebrate or want to know more about International Women's Day and what role we can play for fellow Indonesian women, don't forget to watch Instagram Live with Selphie Bong, save the time, March 8, 16.00 WIB .
For those of you who don't want to miss any information regarding online or offline events held by Beautynesia, don't hesitate to join the Beautynesia WhatsApp group, B-Nation. The method is really easy, you just need to fill in the data HERE. Don't forget to invite your female friends to join the B-Nation community. Free!
(go/go)