BLACKPINK Makeup Tutorial Directly from the MUA, Rose is the hardest than the others
Newsdelivers.com –
BLACKPINK makeup artist, Lee Myung Sun, revealed that the most difficult BLACKPINK makeup is Rosé, you know, Mother.
Lee Myung Sun recently conducted an interview with one of the South Korean media. Back then, she was asked about the different look Rosé saw in the MV for her debut solo track, 'On The Ground'.
One of the questions posed to her was about Rosé's skin looking so smooth and beautiful. Hearing this question, Lee Myung Sun said that the skin texture of one of the BLACKPINK members made it difficult for him to do his job.
"Rosé's skin is like egg white. Her skin is amazing, but it's hard to wear base makeup. Her skin is so smooth, and her pores are so tight that it's like pushing against the foundation," said Lee Myung Sun, quoted from the Koreaboo page.
She also shared tips on how to solve this problem using makeup.
"With a smooth foundation, just a minute, I'll immediately apply it so that it sticks to the skin. Giving too much touch will actually make the skin damage the foundation, so I want to reduce touch with the foundation, "he said.
The makeup artist reiterates that with or without makeup, Rosé is still a visual queen with a beautiful face, Bunda.
While Rosé's gorgeous visual doesn't require any makeup, she often sports subtle smokey eye makeup that enhances her natural beauty.
Lee Myung Sun also doesn't hesitate to give tutorials for creating a soft smokey glam look, you know. Then, how? Listen to the following, yes, Mother.
Rosé BLACKPINK makeup tutorial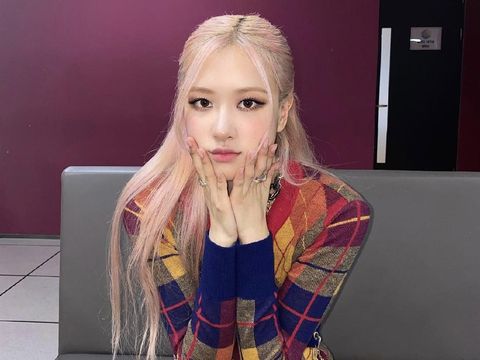 Rose BLACKPINK/ Photo: doc. Instagram roses_are_rosie
Here are some ways to get a makeup look like Rosé that you can apply:
1. Clean your face and use a moisturizer
The first step you need to do is clean your face first. After that, use a moisturizer to help get naturally moisturized skin.
2. Apply foundation
Lee Myung Sun suggests using a liquid foundation and applying it all over your face with a makeup brush. For extra coverage, you also need to apply concealer in several areas to cover blemishes on your face.
3. Use loose powder
Loose powder on the T-zone, or areas that may get oilier throughout the day. For those with drier skin, Lee Myung Sun suggests using a lighter powder.
4. Alis
Lee Myung Sun said that Rosé usually only fills in the gaps in her brows, and prefers natural, lighter brows.
5. Apply contour
Lee Myung Sun also lightly contours along his nose, following the bridge of the nose down to the eyebrows to add dimension to the overall makeup look.
6. Eyelashes
Lee Myung Sun started with an eyelash curler to give his lashes a dramatic look. Then, she started with a wider lash curler and came back with a narrower lash, to give the look of defined lashes.
Continue reading the next page to find out more Rosé-style makeup tips, come on, Mother.
For mothers who want to share about parenting and can get lots of giveaways, let's join the HaiBunda Squad community. Register click HERE. Free!
Also, watch the video for 5 makeup tricks to make your face look thinner below, OK, Mother.
[Gambas:Video Haibunda]