Becoming an Idol for Mothers, Jennifer Bachdim Reveals the Weight of Managing 4 Children & LDR with Her Husband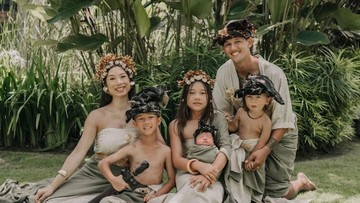 Newsdelivers.com –
The figure of Jennifer Bachdim is currently in public discussion. Not long ago, his painstaking video of taking care of four children went viral on social media and made Irfan Bachdim's wife an idol for mothers.
Jennifer Bachdim just had her fourth child on February 12, 2023. Currently, Jennifer is known to be living in Bali with her four children.
Recently, Jennifer expressed her feelings about taking care of four children while undergoing a long distance relationship (LDR) with her husband. Irfan Bachdim is currently living in Solo because he strengthens the Persis Solo football team.
"This season has not been easy, the first time we have separated (after the LDR we had at the beginning)," Jennifer wrote on Instagram.
Since marrying Irfan Bachdim, Jennifer has changed residence several times. She follows her husband every time he decides to move to a football club.
Not only in several cities in Indonesia, this mother of four has also lived in several countries. Jennifer lived this life even after being blessed with a child.
"After having children, I always accompanied Irfan, to every city and country, from Malang, Thailand, to two cities in Japan, Bali, Jogja," he said.
Jennifer and Irfan decide to have an LDR
After going through everything, Jennifer and Irfan finally decided to stay in one place. Jennifer and her four children live in Bali, while Irfan lives in Solo.
The couple who married on July 8 2011 decided to undergo LDR. Irfan always makes time to go home in his free time.
This decision was taken after Jennifer found it hard to go to Solo to visit her husband. For him, it was not easy to fly to Solo while carrying children, and even being pregnant.
"But this year we decided it was best to stay in Bali with the children and Irfan stayed in Solo, then he came as often as he could to Bali to meet us," he said.
"I've tried several times to fly to Solo, but at that time it was not easy to do it alone with 3 children and being pregnant. So it was easiest for Irfan to come here, even though it could only be for one day, 24 hours! Or even less! But he would always come on his days off to be with us."
In this upload, Jennifer also confides in herself about the difficulty of taking care of her four children. Moreover, this 35-year-old woman is also still actively working.
But, Jennifer did not want to give up. She is well aware that her husband also has heavier responsibilities and duties because he has to live far away from his family.
"It's hard for me to live my daily life alone with 4 kids, while working and taking care of the household," said Jennifer.
"But, this is also hard for Irfan, alone without the biggest family and support system! When this season ends, we will be back together again and I can't wait for it!!!"
Undergoing LDR while taking care of four children is not an easy job. However, everything can go well if Mother is committed to living it with her husband. Apart from commitment, there are also several important things that need to be done while undergoing LDR and taking care of children.
More can be read on the next page.
For mothers who want to share about parenting and can get lots of giveaways, let's join the HaiBunda Squad community. Register click HERE. Free!
See also the 5 parenting styles of parents in Japan in educating children, in the following video:
[Gambas:Video Haibunda]