7 Preparations to Welcome Ramadan for Children, Pay Attention Bun
Newsdelivers.com –
Teaching children to fast in the month of Ramadan aims to help children understand the ins and outs of fasting so that they are happy to live it without coercion. For that, there are various preparations to welcome Ramadan that need to be done.
The arrival of the month of Ramadan must be greeted with joy, Mother. In addition, this month of Ramadan is also used as a moment for children to get to know about worship.
Every family certainly has a different learning pattern. Likewise with the attractive impressions in the first days when fasting.

Preparing to celebrate Ramadan for children
There are various preparations that Mother and Little One need to make to welcome Ramadan. According to the book Success in Training Fasting Children by Umm Qhania and 1001 Powerful Ways to Train Fasting Children by Mother Nofisah A, here is the sequence:
1. Physical preparation
Physical preparation needs to be considered when welcoming the arrival of the holy month of Ramadan. This is the main requirement for children to stay in prime condition while fasting.
Excellent health conditions are the main capital for the success of the fasting training program. To be able to keep your little one's stamina healthy, mothers and fathers need to broaden their horizons about children's health and know the basic differences between the 'engines' of metabolism for children and adults.
2. Mental preparation
In every business, mental preparation or readiness for the day is an important thing that needs attention. Not without reason, this is so that you are ready to face challenges, obstacles, and difficulties, the same as when children are fasting.
The success of fasting will not happen instantly. The learning process must be carried out in stages according to the ability of the child. In order not to dissolve in uncomfortable conditions when children are practicing fasting, mothers and fathers can provide motivation for children.
3. Material preparation
The preparation of this material is not to make children happy with clothes, shoes or other accessories that look new. This is also not related to traveling back to the village or buying cakes ahead of Eid al-Fitr.
This treasure preparation teaches children to give alms by multiplying infaq, Mother. Teach children that the return value of infaq, alms, and zakat given later will be multiplied according to the will of Allah SWT.
4. Preparation of Ramadan knowledge
Fasting that is obligatory during the month of Ramadan aims to form pious children. Therefore, a good understanding of the ins and outs or fiqh shiyam of fasting Ramadan is needed so that all the practices that the child goes through are optimal.
Ramadan is a place for self and soul placement so that children grow to be better human beings. You can tell us about the culture that is usually done in the month of Ramadan, as well as what worship is being done this month, such as tarawih prayers, tadarus, itikaf, and so on.
5. Spiritual preparation
The month of Ramadan comes as a month to get closer to Allah SWT. One way to prepare spiritually and spiritually to welcome the month of Ramadan is to practice and increase worship in the previous months.
Mothers can teach children to fast in the previous months, such as fasting Monday-Thursday or other fasts. So, children who are ready to fast during the month of Ramadan are mentally prepared so that their fast is not in vain.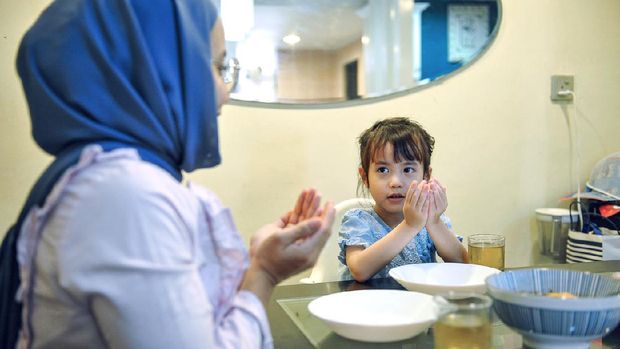 Illustration of a child learning to fast/Photo: iStock
6. Apologize
Launching from the book Defending Yourself in Welcoming the Month of Ramadan by Abu Maryam Kautsar Amru, basically apologizing is something that is recommended, Mother. Especially if the Little One is taught to immediately apologize when he has a mistake without having to wait for a certain moment.
Forgiving before Ramadan is a tradition that is often done. Even so, it's better to apologize with a sincere heart and not just small talk.
7. Preparation for Eid al-Fitr
Children love the cheerful atmosphere at the last moment of completing a month-long fast, Mother. Even though Eid al-Fitr is a happy day, don't forget to teach your children the spirit to save money and keep praying so that next year they will be reunited with the month of Ramadan.
Mother wants to buy health products and needs for children. Come on, Bun, click here.
(mua/for)