6 Interesting Things from the Loewe Fall 2023 Demonstration Attended by Taeyong NCT and NMIXX
The Loewe Fall Winter 2023 demonstration on Friday (3/3) proves that Jonathan Anderson's creativity in his 10th year as creative director of the Spanish luxury label has not faded. Not in terms of ideas and creativity, "fading" actually applies to a number of works in the new collection with surreal nuances.
Yes, Loewe's 51 looks presentation at Paris Fashion Week showed the creative director playing with traditional tailoring techniques and technology when designing his collection. Apart from that, he also explores the material that has become the identity of the Loewe fashion house, namely the soft fine leather that is found in clothing and accessories. Let's take a peek at the following interesting things from Loewe's demonstration!
1. Shift Dress with Blurry Prints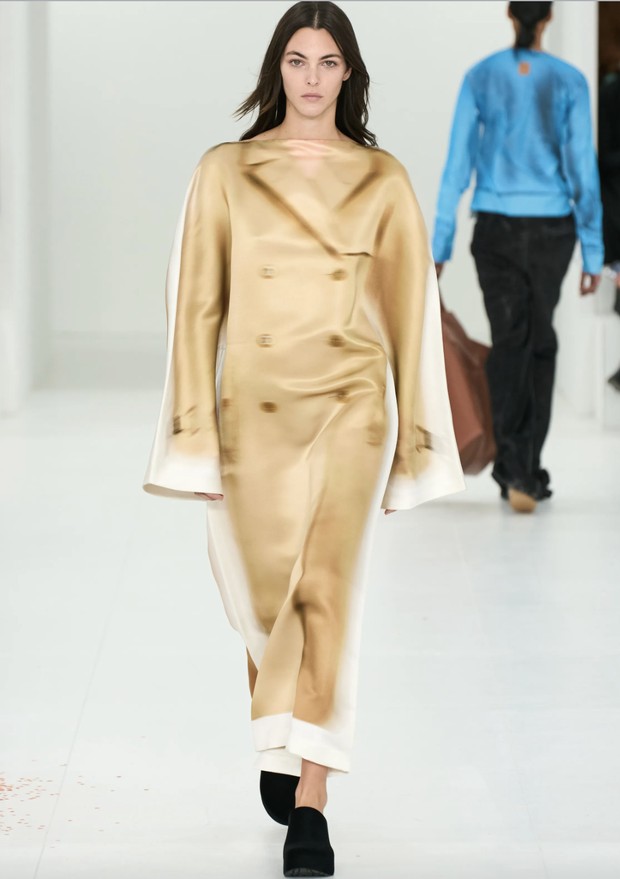 Look 41/ Foto: vogue.com/Daniele Oberrauch / Gorunway.com




Starting the fashion show, views are spoiled with a printed shift dress with a linear silhouette. But what makes these dresses special are the faded graphic designs printed on the soft, shiny duchesse fabric. The image in the form of a blur dress seems to give a glitch effect to the original dress. The image print not only features the dress, but also the coat as found in look 41.
2. Goose Feathers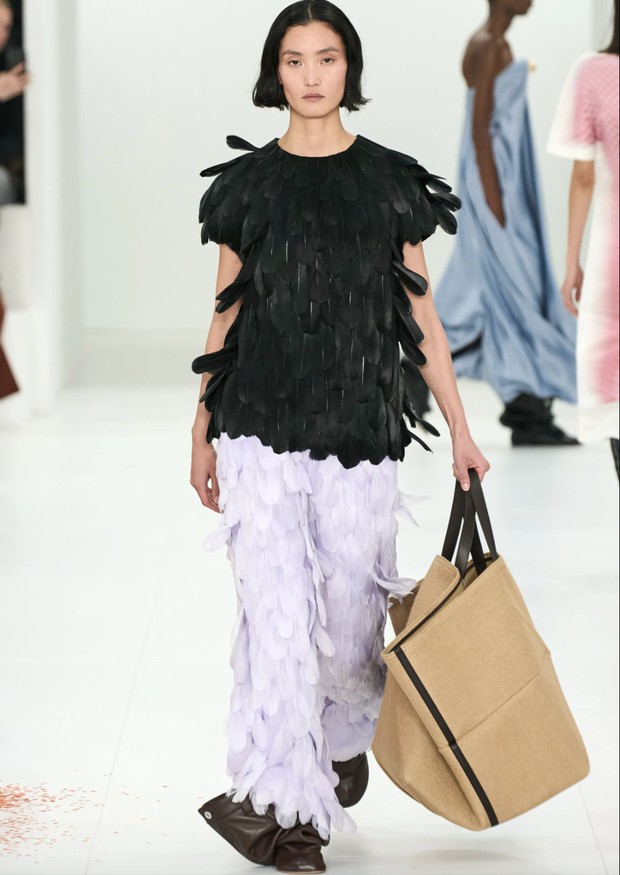 Look 22/ Foto: vogue.com/Daniele Oberrauch / Gorunway.com




Howl's Moving Castle frenzy is here to stay. Goose feathers found in the Loewe x Howl's Moving Castle capsule collection were also seen at the fashion show. Feather-embellishments appear to fill the fall 2023 collection, from t-shirts, long-sleeved shirts, to pants. The goose feathers are neatly pinned in various colors, such as black, white, blue and lilac.
3. Adhesive Paper Cardigan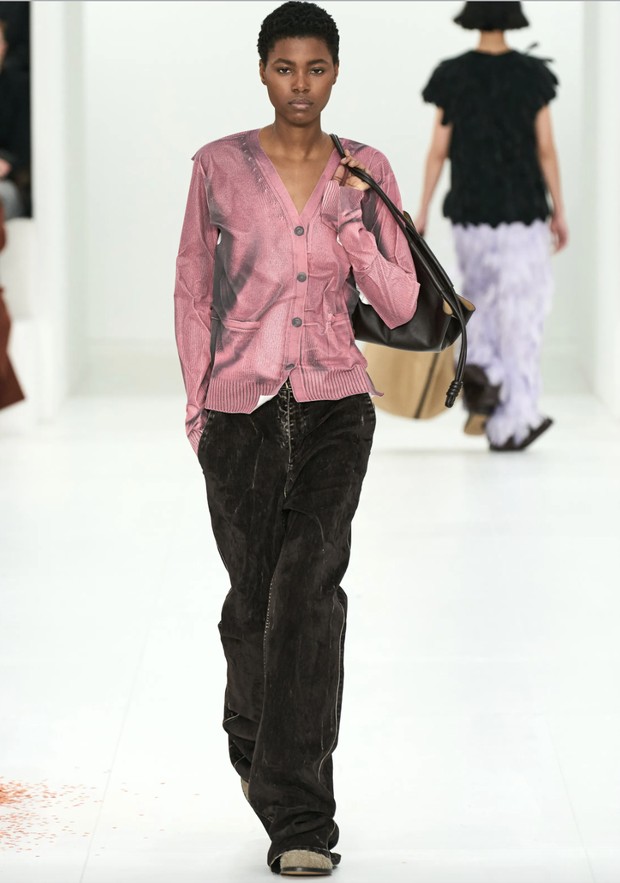 Look 27/ Foto: vogue.com/Daniele Oberrauch / Gorunway.com




The game of perception in clothing is also shown in the cardigan collection. Two knit cardigans in pink and blue are presented with a paper wrinkly effect on the surface. Playing tricks again, the cardigan is just a print knit on adhesive paper that is directly glued to the model's body. Unique, right?
4. Fine-Leather & Suede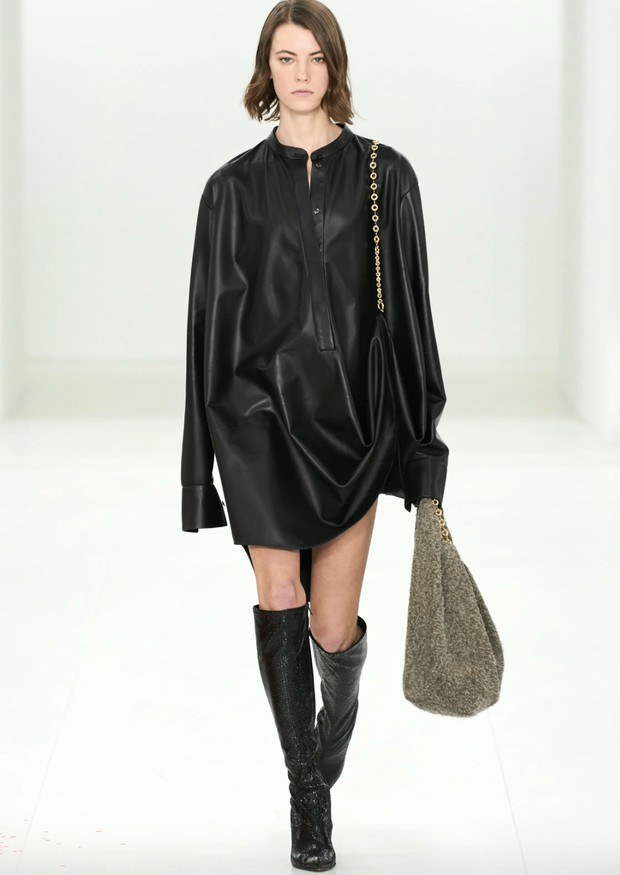 Look 6/ Foto: vogue.com/Daniele Oberrauch / Gorunway.com




Apart from feather, leather and suede also dominated Jonathan Anderson's designs this time. Light and soft suede and fine-leather materials which are Loewe's mainstay materials are created in the form of shirts, coats, sleeveless blouses, shirt dresses with donut chain accents attached to the hemline and around the shoulders, boots and bags.
5. Trouser Design Boots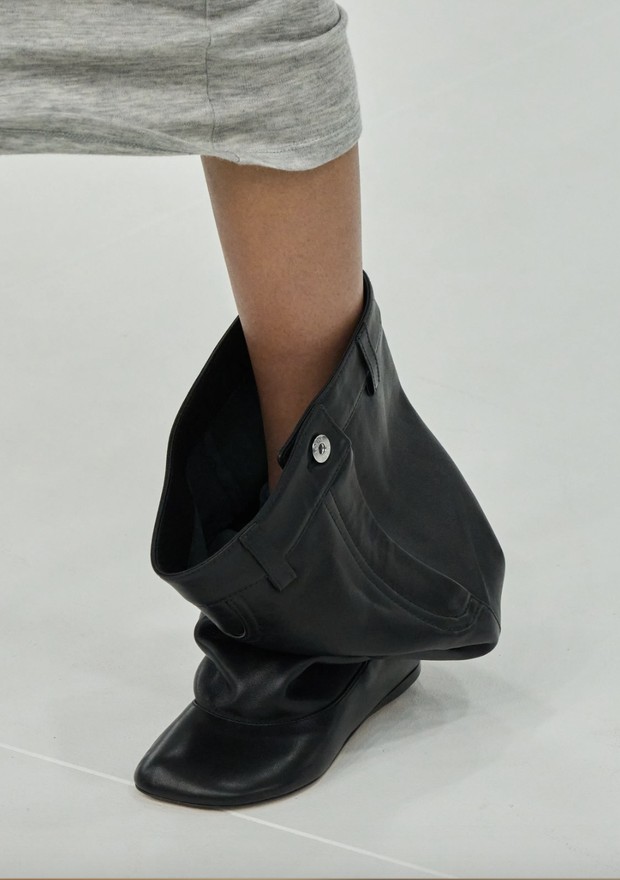 Leather boots/ Foto: vogue.com/Armando Grillo / Gorunway.com




Loewe's shoes, which often have eccentric shapes, are hard to miss, such as soap-shaped heels, upside-down roses, or doll-like pumps. The new creation for fall offers a design that is no less unique, namely a pair of leather boots with a wide and slouchy upper shaft designed to resemble a trouser design.
6. The Squeeze Bag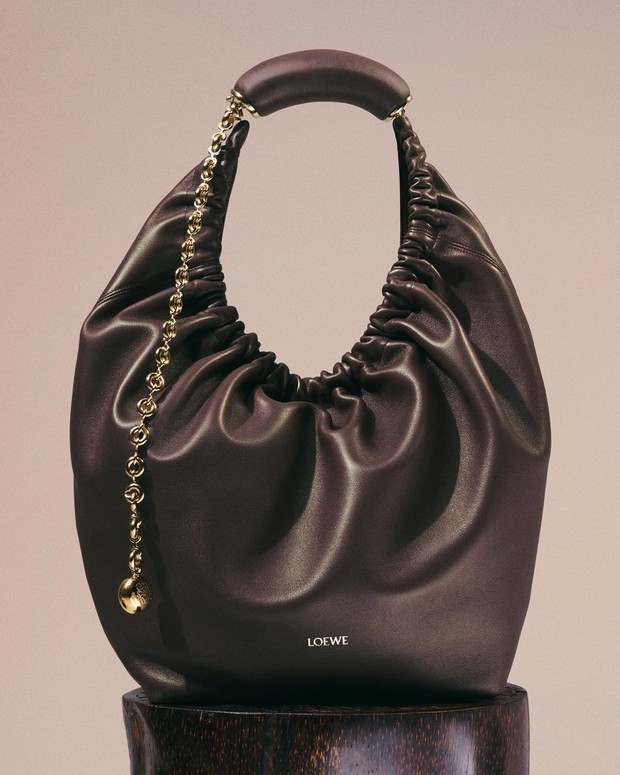 Loewe The Squeeze Bag/ Foto: instagram.com/loewe




Apart from creating footwear, Loewe also introduced The Squeeze bag. The bag is made using soft leather, wrinkled construction on the opening, and is equipped with a donut chain accent. However, as the name suggests, the squishy top handle also completes this Loewe bag.
Still unique even though visually it looks simple, what exactly inspired Jonathan Anderson to create this collection? Read on the next page, OK!