Produced by Rowman Ungu, former Dreamgirls Andhara Fachsa debuts solo career
Suara.com – Former Dreamgirls member Andhara Fachsa has officially made his solo career debut. He introduced the single titled "Sediri".
"I'm very grateful, finally this song can be released," said Andhara Fachsa, at a press conference in the Senayan area, Central Jakarta, Tuesday (7/3/2023).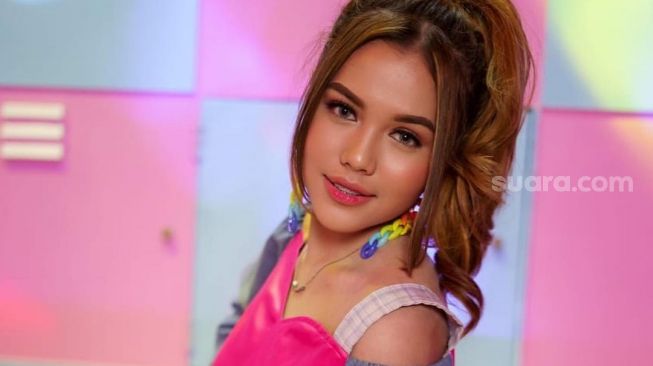 Andhara Fachsa [Instagram]
The song "Sendiri" was actually recorded in April 2022. However, Andhara Fachsa was still hesitant to release it because he was not satisfied with the musical arrangement.
"The first recording of this song was around April 2022. After I heard it many times with Mama, how come I'm not satisfied yet. I'm worried that the lyrics and arrangement are a bit oldies," said Andhara Fachsa.
Also Read: Duo Bottlesmoker Reveals the Excitement of Performing at a Silent Concert
Andhara Fachsa was then met with Rowman Ungu by his mother, Litta Fachsa to discuss suitable song arrangements. The drummer also agreed to help the 18-year-old girl finish her work.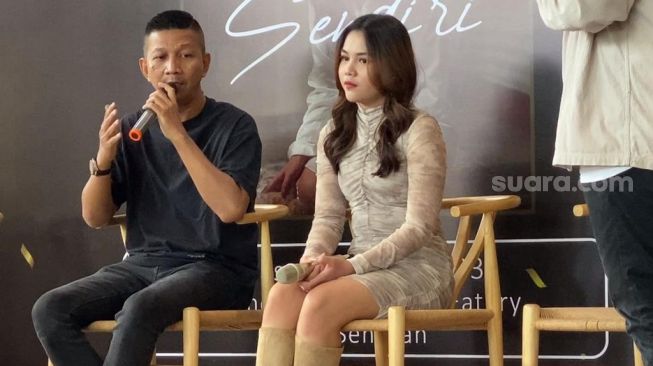 Andhara Fachsa with Rowman Ungu, when releasing a single entitled "Sendiri" in the Senayan area, Central Jakata, Tuesday (7/3/2023). [Adiyoga Priyambodo/Suara.com]
"After thorough discussions with Mama and Uncle Rowman who were ready to help, I re-recorded this song with a modern arrangement," added Andhara Fachsa.
The song "Sediri", which became Andhara Fachsa's debut single, was composed by his mother, Litta Fachsa 20 years ago. As it turned out, the song was about to be released by Litta Fachsa's band, Notline, also with the help of Rowman Ungu.
"This song was originally titled 'I Don't Care'," said Litta Fachsa.
This unique story also made Rowman Ungu want to produce Andhara Fachsa to work on the single "Sendiri".
Also Read: Studying Music: Improving Cognitive Ability and Improving Mental Health
"You say it's funny, yes. On purpose, but not. Everything flows without a plan. Who would have thought that the song that his mother's band used to release was now being sung by his son," said Rowman Ungu.
Carrying the troubled story of a woman who is tired of waiting for her love to be reciprocated, Andhara Fachsa hopes that her work can be a new choice for broken-hearted people.
"I hope this song can be well received by the public. I am also happy and don't close my eyes if there are criticisms or comments from netizens," said Andhara Fachsa