PBSI: Coating Players Fill in the Team Formation for the 2023 SEA Games
Suara.com – The Central Executive of the Indonesian Badminton Association (PP PBSI) announced that the team formation sent to the 2023 SEA Games in Phnom Penh, Cambodia, will be filled with substitute players.
According to PBSI's Head of Development and Achievement Division, Rionny Mainaky, the line-up of the chosen back-up players was quite strong so that his party had high optimism not to bring in the first team.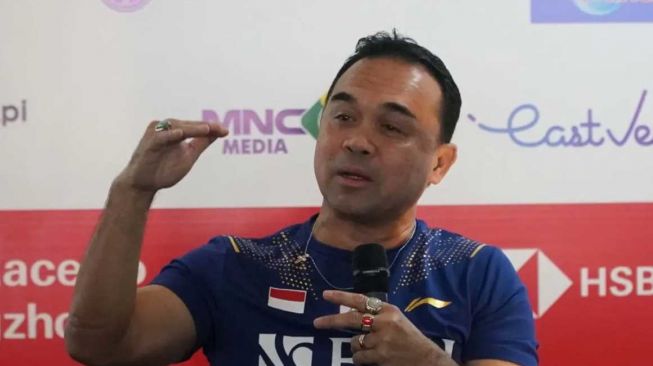 PBSI Binpres Head, Rionny Mainaky at Istora Senayan, Jakarta. [PBSI]
"I have given it, it has been chosen," said Rionny to ANTARA at the Cipayung PBSI Pelatnas, East Jakarta, Tuesday (7/3/2023).
Even though they will bring a back-up team, PBSI places high trust in its players because in terms of quality they have strengths that can compete with opponents from Southeast Asia.
Also Read: Preparing for the 2023 SEA Games, the Indonesian Wushu National Team Holds TC in China
PBSI even assesses the ability of the badminton players to be no less than the main sector, which will later be directed to take part in the Sudirman Cup because it takes place at almost the same time as the 2023 SEA Games.
"But in the SEA Games we are not too constrained because there are also coatings, there are many who are strong, like for example Chico (Aura Dwi Wardoyo, men's singles)," said Rionny.
Even though he has not yet stated in detail the complete composition of the national team at the SEA Games, Rionny is confident that his team can repeat the success of the 2021 SEA Games in Vietnam, which won three gold medals.
"There is no problem, at the SEA Games the target can also be achieved. I'm sure it can, even the younger ones have more losses because the SEA Games seem small but the pressure is greater than the Asian Games or the Olympics," said Rionny.
The 2023 SEA Games will take place on May 5-17, while the Sudirman Cup will take place on May 14-21 in Suzhou, China.
Also Read: Player Quality in the First TC of the U-22 Indonesian National Team According to Expectations, Indra Sjafri: I'm a Surprise
PBSI sees the team championship as more prestigious than the SEA Games, so the main badminton players will represent the Red and White on this agenda.
"Yes, there is indeed a 'full team' again in Sudirman," said Rionny briefly.