Indonesian National Team Goals Conceded Against Uzbekistan, Shin Tae-yong: The Players Deserve Praise
Suara.com – The coach of the U-20 Indonesian national team Shin Tae Yong said that his defenders performed quite well against hosts Uzbekistan, in the last Group A match of the 2023 U-20 Asian Cup which was held at the Istiqlol Stadium, Fergana, Tuesday (7/3) /2023) evening local time.
Uzbekistan had several times created good opportunities to break into Indonesia's goal which was guarded by goalkeeper Daffa Fasya. But time and time again the Indonesian defenders commanded by Muhammad Ferrari were able to frustrate these attacks, so the game ended in a 0-0 draw.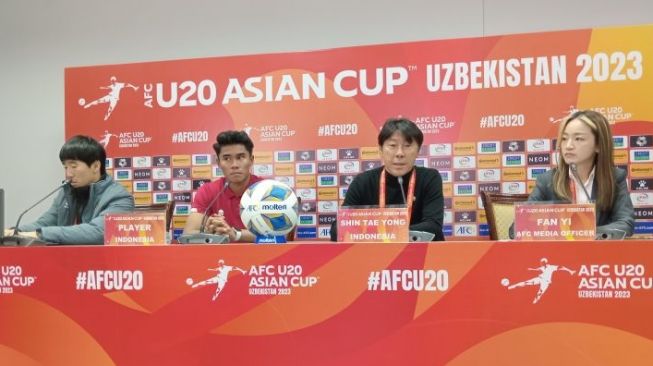 Indonesia U-20 national team coach Shin Tae Yong (second from right) attends a press conference after the U-20 Asian Cup Group A match against Uzbekistan, which was played at the Istiqlol Stadium, Fergana, Tuesday (7/3/2023). (ANTARA/RAUF ADIPATI)
"I think that regarding defense, we performed well because until the end of the game we didn't concede a goal. So the players also deserve praise. To win the game, the whole team must be one for 90 minutes," said Shin Tae-yong at a press conference after the match.
A draw against Uzbekistan was not enough to lead Indonesia to qualify for the quarter-finals of the 2023 U-20 Asian Cup. The U-20 national team only finished third in the final Group A standings with four points.
Also Read: Player Quality in the First TC of the U-22 Indonesian National Team According to Expectations, Indra Sjafri: I'm a Surprise
The point collection is actually the same as Iraq, which in the last game drew 1-1 with Syria, but Iraq is superior on goal difference.
However, coach Shin believes the players can learn lessons, especially from the match against Uzbekistan, regarding the limitations of the players when they meet teams from bigger countries.
"As you can see, Uzbekistan's players are physically bigger than our players, and this condition is quite difficult for our players. So physical condition is our weakness. Therefore from now on they have to work extra to increase their physical strength," said the coach from South Korea.
After struggling at the Asian level, the U-20 national team will return to an important tournament, namely the U-20 World Cup next May. For the competition, coach Shin said he would make some changes in the squad.
"Our plan going forward is to give the team time to rest. Then after that we will make a number of changes to the squad," concluded Shin as published by Antara.
Also Read: Tonight U20 vs Uzbekistan Indonesia National Team Final Results: Duh, Shin Tae Yong's Champion Failed to Win?