Borneo FC vs Persija Jakarta Prediction, BRI League 1 Today: Meeting Records, Line Ups and Live Streaming Links
Suara.com – The match between Borneo FC vs Persija Jakarta will be presented at Segiri Stadium, Samarinda, Wednesday (8/3/2023) at 17.00 WIB.
It is predicted that the BRI Liga 1 match week 29 will be fierce considering that full points are the target of Borneo FC and Persija Jakarta who both want to end this season at the top of the standings.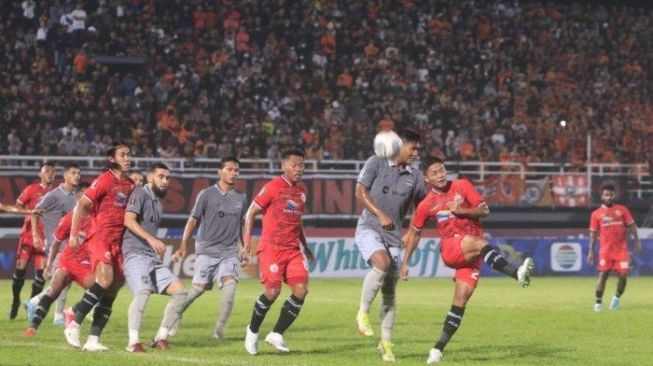 Borneo FC vs Persija Jakarta match at Segiri Stadium, Samarinda. [Istimewa]
As is known, Persija Jakarta is currently in third place in the standings with a collection of 51 points. The Kemayoran Tigers are only one point away from Persib who are in second place and 11 points from the leader of the PSM Makassar standings.
With eight games remaining, mathematically Persija still has a chance to win the League 1 title. But to make this happen is to wipe out the points in the remaining matches, and start from Borneo FC headquarters.
Also Read: Live Streaming Link for Chelsea vs Borussia Dortmund Wednesday 8 March 2023 on TV Online
In the first round, Persija managed to beat Borneo FC with a narrow score of 1-0. However, this record cannot guarantee that the Kemayoran Tigers will easily earn points at the Pesut Etam headquarters.
The last time they had an away game against Borneo FC in 2021, Persija lost with a score of 2-1.
That's not all, two weeks ago Thomas Doll's team also failed to earn full points at Madura United headquarters. They were only able to play a goalless draw.
In contrast to Borneo FC who managed to beat Madura United 0-1 the following week.
Borneo FC itself is currently in sixth position with 44 points. Under the command of the new coach Pieter Huistra, Pesut Etam is determined to avenge their defeat in the first round of the BRI Liga 1.
Also Read: Live Streaming Link for Chelsea vs Borussia Dortmund in the Top 16 of the Champions League
Player lineup predictions