Suara.com – The Moroccan national team made history for the first time having successfully penetrated the quarter-finals of the World Cup after eliminating Spain on penalties in the last 16 match of the 2022 World Cup. Morocco's hero this time is none other than their mainstay goalkeeper, Yassine Bounou.
Morocco beat Spain 3-0 in a toss round, after the two teams drew 0-0 in 120 minutes of the match which was held at the Education City Stadium, Qatar, Wednesday (7/12/2022) early morning WIB.
All the ball directions from the three Spanish kickers, namely Pablo Sarabia, Carlos Soler and Sergio Busquets were successfully read by Bounou. In fact, two of them were successfully pushed over by the 31-year-old Sevilla goalkeeper.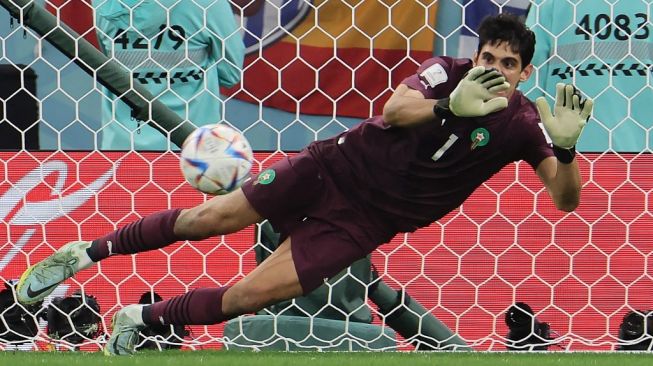 Spain itself is not the first team to feel Bounou's toughness under the crossbar. Two of Europe's elite clubs, Manchester United and Inter Milan, have experienced first-hand the greatness of this goalkeeper who is familiarly called Bono.
Read Also:
Practice 1000 Penalties in vain, Spain remains the most unlucky team in the World Cup Tossing Round
Bono was the key to Sevilla's success when they won the Europa League in the 2019/2020 season. At that time, this Canadian-born goalkeeper appeared well in the semifinal match when Sevilla beat Manchester United 2-1 in the semifinals, and the climax was in the final when Sevilla toppled Inter Milan.
Bono's goal was conceded twice by Inter, but at the top of the party he made two brilliant saves which of course played a big role in Sevilla's success in winning the trophy.
Interestingly, Bono's status was actually not Sevilla's main keeper when he came to the Andalusian club on loan from Girona in the summer of 2019.
Initially, Bono was just a back-up for Sevilla's number one goalkeeper from Serbia, Marko Dmitrovic. However, an injury midway through the 2019/2020 campaign kept Dmitrovic out and his place was taken by Bono.
Performing brilliantly since then, Bono has finally secured the status of Seville's number one goalkeeper until now. Sevilla itself immediately made Bono's status permanent from Girono with a transfer fee of 4 million euros in the summer of 2020.
Read Also:
2022 World Cup Surprise, Morocco Eliminates Spain in the Round of 16
Bono himself spent most of his career in Spain. He has made more than 100 appearances in LaLiga, aka the Spanish League for Girona and Sevilla.
Previously, Bono had also joined Atletico Madrid B and Real Zaragoza since leaving Morocco as a teenager.