Suara.com – The crucial match between Poland vs Argentina will be presented on the final matchday of Group C for the 2022 World Cup. The Argentine national team will clash with the Polish national team at Stadium 974, Qatar, Thursday (1/12/2022) early morning at 02.00 WIB.
The Argentina national team will try to overtake Poland to win Group C and qualify for the last 16 of the 2022 World Cup.
Argentina is now in second place in Group C standings with 3 points from two matches, ahead on goal difference over Saudi Arabia who are in third place.
While the top position is currently occupied by Poland with a collection of 4 points, while Mexico, which has just collected 1 point, is at the bottom.
Read Also:
3 Prestigious Records Set by Marcus Rashford, Including the First Direct Free Kick Goal at the 2022 World Cup
It looks simple indeed for Argentina. Lionel Messi and his friends will qualify for the round of 16 and also win Group C if they win against Poland.
However, the worst scenario can also happen to the Albiceleste — nicknamed the Argentina national team. Lionel Scaloni's team will certainly lift their suitcases if they lose against Poland.
Argentina will also go home if they draw against Poland, while in other matches Saudi Arabia wins, or even if Mexico wins by a big score.
Against Poland, Lionel Scaloni himself reportedly has a special strategy. As reported by Tribal Football, Wednesday, Scaloni will reserve center back Lisandro Martinez.
This is in anticipation because Poland has a row of tall players who can be very dangerous in set-piece situations.
Read Also:
Poland vs Argentina: Scaloni refuses to compare Robert Lewandowski with Lionel Messi
This line of Polish 'monsters' can be very threatening. Two centre-backs who usually come forward during corner kicks, for example, are Kamil Glik, who is 190 cm tall and Jakub Kiwior (188 cm).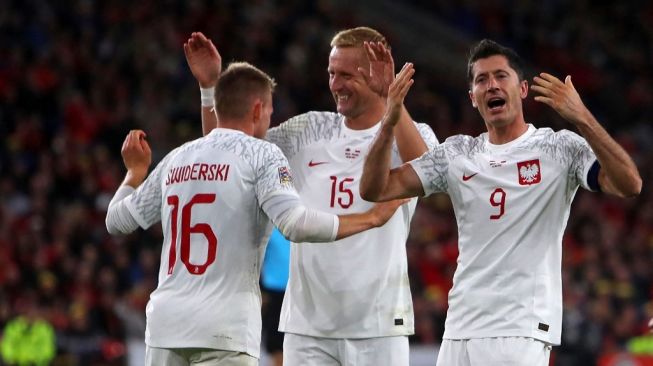 Not to forget there are other players such as Krystian Bielik (189 cm), Grzegorz Krychowiak (186 cm), to the attacking duo Robert Lewandowski (185 cm) and Arek Milik (186 cm).
So, it is feared that Lisandro Martinez, who is only 175 cm tall, will have trouble serving tall Polish players in aerial duels.
Because of this, Scaloni will field two central defenders with more ideal postures against Poland, namely Nicolas Otamendi (183 cm) and Cristian Romero (186 cm).
Romero himself lost his place in Argentina's starting eleven when they won 2-0 in the second match of Group C against Mexico, after appearing badly in an embarrassing 1-2 defeat against Saudi Arabia in the first match.
Martinez played from the early minutes against Mexico, but in the match against Poland later, it is believed that the Manchester United defender will return to the bench.