Suara.com – The duel between Mexico and Poland in the first matchday of Group C for the 2022 World Cup ended in a goalless draw. However, there are interesting facts and data that accompany it.
The match between the Mexican national team and the Polish national team at the 974 Stadium, Doha, Qatar was tough. Both teams had difficulty creating mature opportunities until they failed to score.
The Mexican national team, which appeared to be more dominant, was ultimately unable to dismantle the solid Polish defense which played reactively by relying on counterattacks.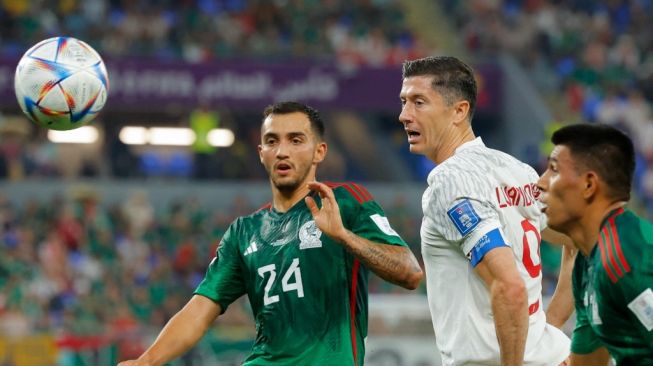 Poland had a golden opportunity to score after the referee awarded a penalty in the 58th minute after Robert Lewandowski was fouled in the forbidden box by Hector Moreno.
Read Also:
2022 World Cup Results: Frustrated, Denmark Must Be Satisfied with Sharing Points with Tunisia in First Match
Robert Lewandowski as the executioner unfortunately failed to convert this opportunity into a goal. His flat shot to the right side of the goal was still readable by goalkeeper Guillermo Ochoa.
This result was somewhat detrimental for both teams because they failed to take advantage of the situation when the Argentina national team as the favorite team unexpectedly collapsed at the hands of Saudi Arabia in another Group C match.
An additional one point made Poland and Mexico consecutively ranked second and third with a collection of one point. The two are two points adrift of Saudi Arabia at the top of Group C in the 2022 World Cup.
Here are 5 interesting facts after the Mexico vs Poland match ended in a goalless draw:
Robert Lewandowski is still unable to score at the World Cup after his penalty was driven out by Guillermo Ochoa.
Lewandowski is in the top three players with the most shots who have failed to score since the 2018 World Cup (11 shots, 4 on target). Above him are Olivier Giroud (13 shots, 0 on target), Marcus Berg (15 shots, 8 on target).
Poland is the first team to fail to convert 3 consecutive penalties at a World Cup (excluding shootouts) since Opta collected this data in 1996.
Guillermo Ochoa is the first Mexican goalkeeper to save a penalty in a World Cup match since at least 1966 (excluding shootouts).
Guillermo Ochoa has now kept a clean sheet for the World Cup against Cameroon (Samuel Eto'o), Brazil (Neymar), Germany (Thomas Muller) and Poland (Robert Lewandowski).
Read Also:
It turned out that the spectators of the 2022 World Cup Opening Match got a special souvenir, the contents of which made you gawk