Suara.com – Danise Chariesta assessed that Nikita Mirzani often commented on other people's affairs so that his name would be remembered by the Indonesian people.
This was revealed by Denise Chariesta in an Instagram Story uploaded on Thursday (6/10/2022) night.
In the upload, a netizen asked why Nikita Mirzani likes to meddle in other people's affairs, including Denise Chariesta.
"How do I know, you just ask him. But it's okay, just let it be. Everyone has their own way of surviving," said Denise Chariesta.
Read Also:
Nikita Mirzani's tantrum for mentioning Ayu Dewi's husband, Denise Chariesta: Her mouth is rough!
He continued, "If, for example, he doesn't move left and right, then he doesn't mind my business, maybe Indonesia won't remember him."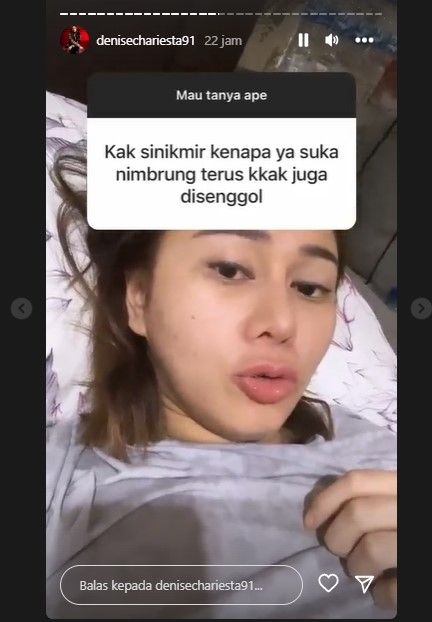 Even so, Denise Chariesta understands that because everyone has their own way to keep their name in the public's memory.
In another Instagram Story upload, this flower shop entrepreneur satirically supports Nikita Mirzani, while laughing at him.
"It's a pity, so let it be. Maybe that's how he survives. I just support and laugh at it (laughing emoji)," wrote Denise Chariesta.
It is known that Nikita Mirzani also spoke about the confession of Denise Chariesta who was once an affair with the man with the initial 'R'.
Read Also:
More Haters because of Attacking Najwa Shihab, Nikita Mirzani: I'm Balding One By One!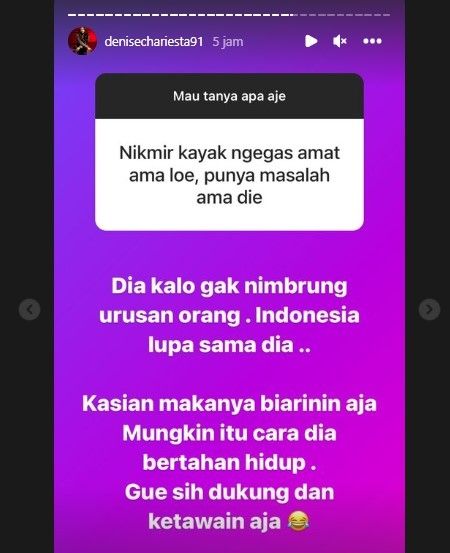 Based on the characteristics he mentioned, netizens suspected that the man was Regi Datau, Ayu Dewi's husband.
Knowing this, Nikita Mirzani suddenly gave support to Ayu Dewi and mentioned that the actor should know himself.