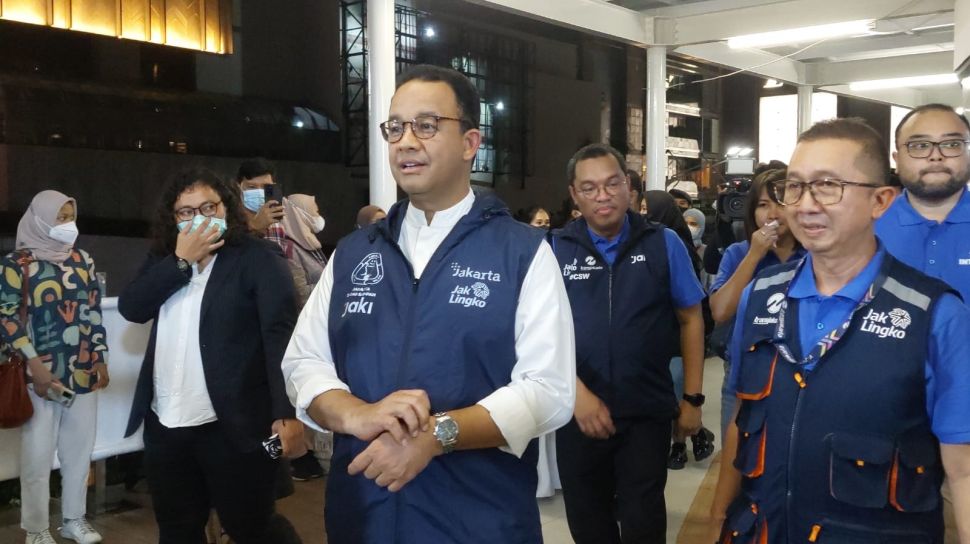 Suara.com – DKI Jakarta Governor Anies Baswedan suddenly canceled the inauguration of the Transjakarta bus stop at the Hotel Indonesia (HI) roundabout, Central Jakarta. This coincided with the request of the historian JJ Rizal who asked that the construction of the bus stop be canceled because it obstructed the view of the Selamat Datang Statue.
In the official agenda of PT Transport Jakarta (Transjakarta), Anies should have inaugurated the opening of the Transjakarta bus stop after it was revitalized. However, in the end Anies did not inaugurate or declare to open this bus stop.
"Opening the operation of the Transjakarta bus stop, the Hotel Indonesia Roundabout," reads the agenda spread among the media crew from Transjakarta, Friday (10/8/2022).
Not only canceled, Anies' strange behavior has actually been seen since the beginning of this agenda being scheduled. Anies was supposed to come to this event at 17.00 WIB.
Read Also:
Destroying the View of the Welcome Statue, Historian JJ Rizal Asks for the Revitalization of the Transjakarta Bus Stop to be Stopped
However, Transjakarta suddenly postponed this event to 21.00 WIB due to adjusting Anies' arrival. Even after it was time for the event to start, Anies did not come.
Until finally, Anies arrived at the location at 23.13 WIB. Upon arrival, Anies immediately visited the pavilion which was on the second floor of the bus stop and had a welcome statue in the background.
After that, he checked the mockup of the Transjakarta bus stop with the President Director of Transjakarta, Mochamad Yana Aditya. Once finished, Anies entered the VIP room and was seen talking with the directors present.
After finishing the conversation, Anies did not inaugurate the bus stop either. The inscription as proof of the inauguration that had been provided was also not signed by Anies.
Anies then immediately walked out of the bus stop. When asked by the media crew, he admitted that he only inspected the construction of this bus stop.
Read Also:
Revitalizing One Hundred Transjakarta Bus Stops for Disability Friendly
"Review (inspection) only. Yes, all work must be reviewed," said Anies at the location.