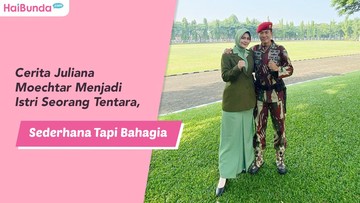 Haibunda |
Haibunda

Wednesday, 05 Oct 2022 15:30 WIB
Juliana Moechtar is currently undergoing her role as the wife of the army, Bunda. On May 27, 2022, Mother who is familiarly called Uli was officially married by a man named Nur Wahyudi who is a TNI officer. Previously, Bunda Uli was the wife of musicians from the band Seventeen and had an active career in the Indonesian entertainment world.
In an exclusive interview conducted by Haibunda, Bunda Uli told about her experience as a soldier's wife. Immediately see the story in the following video, come on!

Share yuk, Bun!