Suara.com – Visinema Pictures is arguably again successful with the fantasy horror genre through films Spirit World. Besides being watched by more than 76 thousand viewers for five days, this film also received many positive responses from netizens who had watched it live.
"It seems rare, or there is no local film that carries the fantasy horror genre like this. It needs to be appreciated! CGI and VFX and Oka Antara's cool acting are the reasons for watching it," said the owner of the Twitter account @innatjeu praising.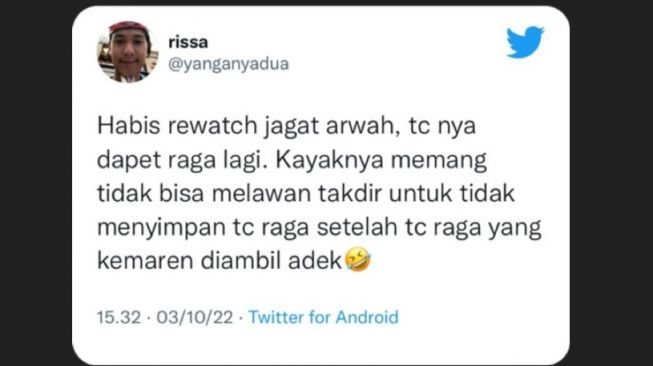 Another compliment from netizens who have watched Spirit World. "After watching Jagat Spirits, it's really cool!" Write the owner of the Twitter account @katasayang_.
"Happy 76k, #JagatArwah! What a good start! It's a really new experience watching it. Those who are afraid of horror don't worry, you can really watch this because there's fantasy too. There's sadness, comedy, all kinds of things. It's really fun, Guys! ," commented the owner of the Twitter account @ttayangyang.
Read Also:
Synopsis of the film Jagat Arwah Complete with the list of players
From the information received Suara.com from Visinema Pictures, in a number of movie theaters Spirit World until sold out. The list of cinemas includes Transmart Pontianak, Depok XXI, Cibinong City XXI, Level 21 Bali, Pondok Gede Bekasi XXI, Transpark Mall Juanda Bekasi, Central CIty Semarang and Ambarrukmo Plaza Yogyakarta.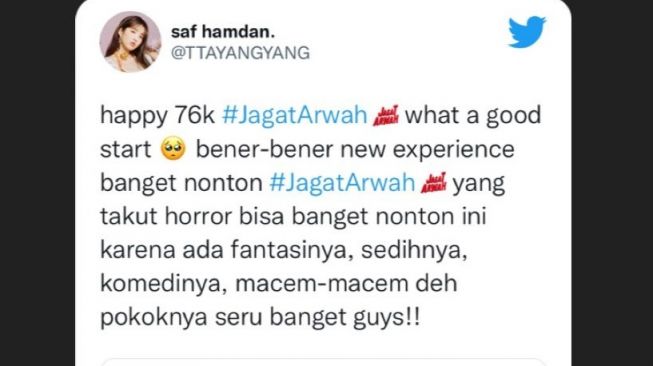 Recently, Visinema Pictures held a cinema visit to several cinemas. Starting from Blok M Square XXI, One Belpark XXI, Depok XXI, Cibinong City XXI, Pondok Gede XXI to Transpark Mall Juanda XXI. One of the artists who attended the event was Ari Irham as the main character.
Seeing the audience's high enthusiasm for this film by Ruben Adrian, Ari Irham also expressed his gratitude to the community.
"I actually dedicate this success to the fans, because of you we can be enthusiastic about working like this," said Ari Irham.
Ari Irham, who was about to leave the location, had time to open the window of his car to express his gratitude to the people who specifically watched the film Jagat Spirits.
Read Also:
List of 'Abstains' in Java in the Film Jagat Spirits: Going Out at Night Kidnapped by Ghosts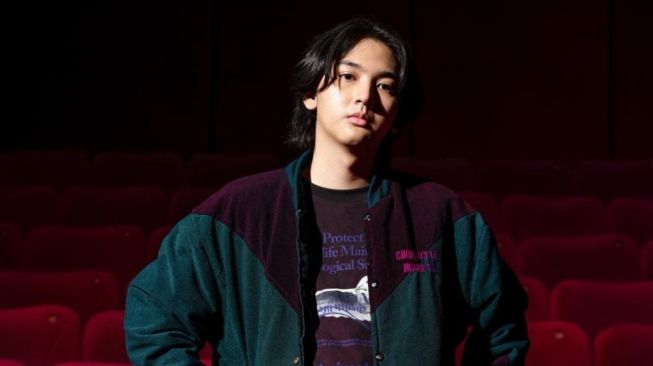 The sweet moment of Ari Irham and the audience during the cinema visit has been confirmed by one of the fans who attended.
"Ari, my friend and I were in front of the Transpark Juanda Bekasi entrance. I thought you were gone. Honestly, I was really surprised there was a car in front of us, then you opened the car window and said hello. Huhu. Thank you, yes," said the account owner @ shintoburi_.
Apart from Ari Irham, Jagat Arwah also stars Oka Antara, Cinta Laura, Ganindra Bimo, Sheila Dara Aisha, Muhammad Khan, Kiki Narenda and others.